if there is one flavor that i will go to forever and always it is chocolate + mint. i love it in everything from junior mints or peppermint patties to ice cream to mint hot chocolate and beyond. it truly is my weakness and i could eat in any form, though chocolate bark is probably one of my favorite!
if you've never made bark before, it is incredibly easy to make with just a few simple steps, a couple favorite ingredients, and just a little bit of your time. there is nothing complicated about it, but i do have a few tips for you, below. also, if you'd like to make something other than chocolate + mint, i have a few other bark recipes that might interest you, like this peanut butter pretzel bark which is the perfect sweet and salty treat, this dark chocolate + mint bark which is perfect for dark chocolate lovers like myself, this nutella hazelnut bark which just reminds me of everything good in this world, and last but not least this white chocolate cranberry pistachio…this one is another great flavor combination, plus, it's got the white from the melted chocolate, red from the dried cranberries, and green from the pistachios – it's very festive and perfect for christmas!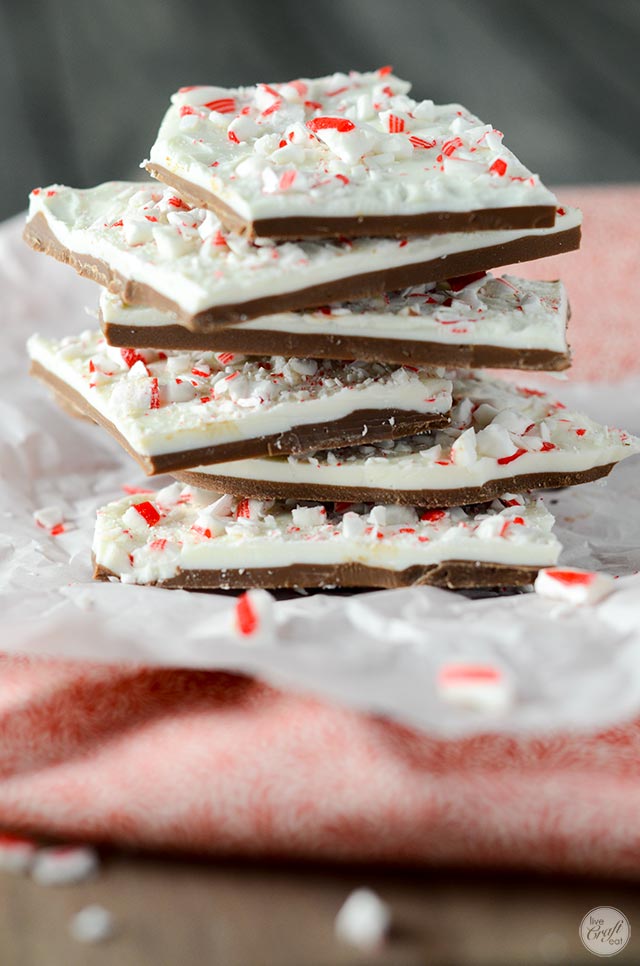 this bark is made from just milk chocolate bars, white chocolate wafers, and crushed candy cane. pretty innocent on their own, but put all three of those together and you've got a match made in heaven! i used lindt milk chocolate bars (aff link) because they are so smooth and creamy and one of my favorites, but use the best-quality milk chocolate you can get your hands on. i used ghirardelli white chocolate wafers (aff link) for the white chocolate layer. the candy canes i actually buy on clearance the day after christmas the previous year for $0.50/box and since they last a long, long time, i can use them for this chocolate bark, throwing into a mug of hot chocolate, or for homemade candy cane popcorn, amongst other things. there's a nice little tip for ya 😉 day after christmas. candy canes. 50 cents.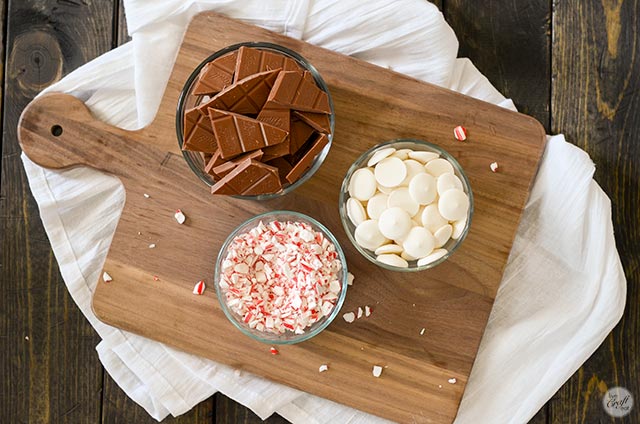 place the milk chocolate in a microwave-safe bowl (aff link) and melt it in the microwave in 30 second intervals, stirring well after each one. tip: you don't want to heat it too much or it will seize and you will never be able to use it again! just melt it enough that you have several small lumps of chocolate left and then just stir it until the lumps melt into the rest of the chocolate. once it's perfectly melted, spread it onto a baking sheet lined with parchment paper (aff link) (i use these quarter sheets [aff link] because they're the perfect size + they fit well in my fridge if i need the chocolate to cool).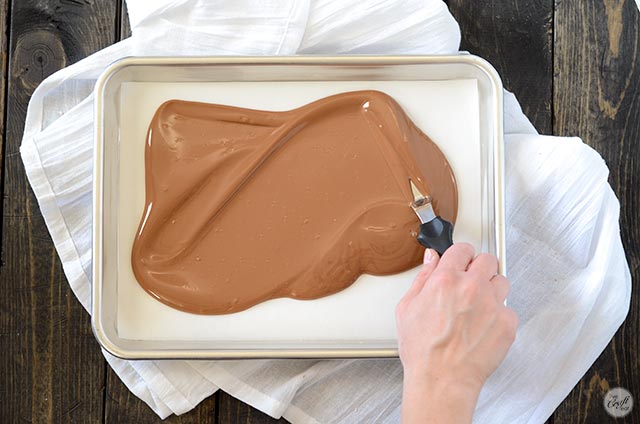 spread the melted milk chocolate all the way to the edges of the pan, trying to make an even layer. put it in the fridge for about 1/2 hour to let it set and harden completely.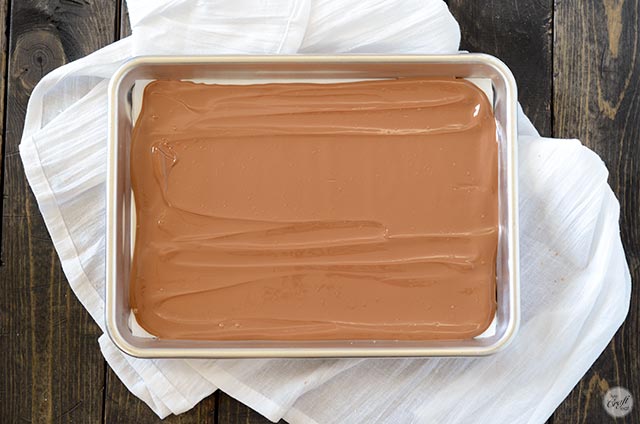 once the milk chocolate layer has hardened, melt the white chocolate wafers the same way you did the milk chocolate. spread the white chocolate over the milk chocolate, totally covering the milk chocolate layer.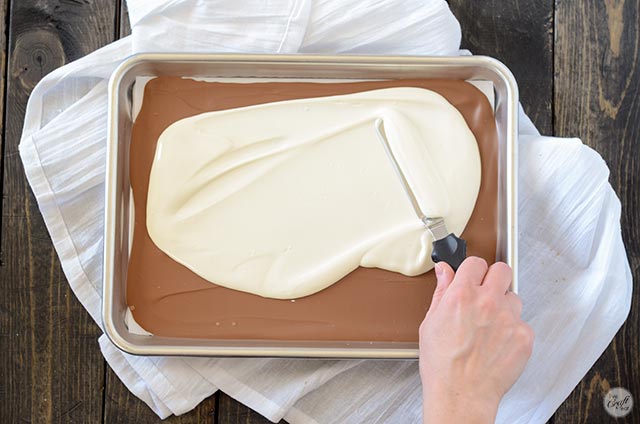 make sure to get it all the way to the edges in one smooth layer!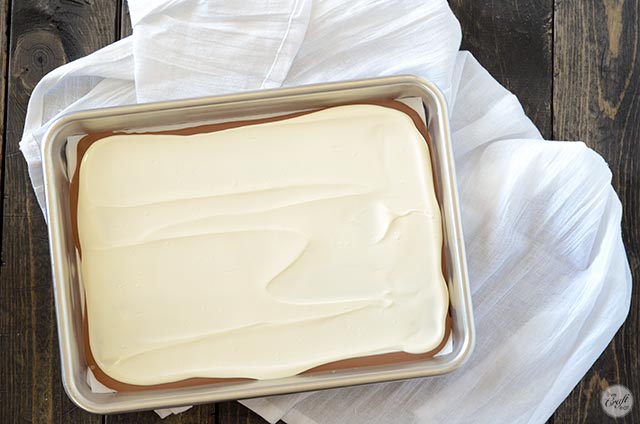 with this next step, you need to work rather quickly because you do not want the white chocolate to cool before you get a chance to add the crushed candy cane – it won't allow the candy cane to stick to it). sprinkle the crushed candy cane all overtop the white chocolate layer. place it back in the fridge to cool.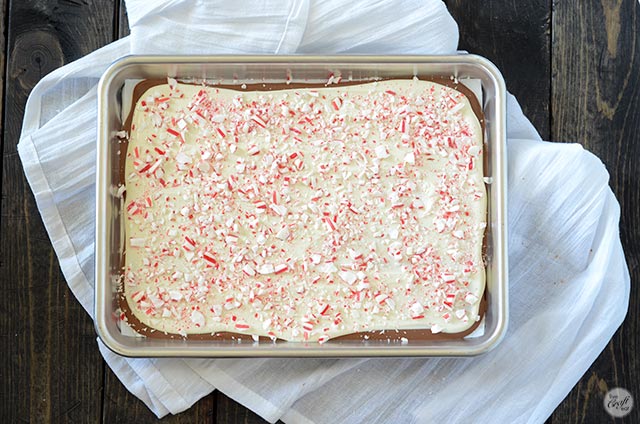 lining the baking pan with parchment helps immensely in being able to take the chocolate bark out of the baking pan so you can then proceed to break or cut them into big pieces to give to a friend or neighbor. remember, it's ok to keep some for yourself instead of giving it all away!