this white chocolate + cranberry (craisin) + pistachio bark is perfect for christmas, not only because the flavors are so great together, but because the colors are perfect! red, green, and white. what could be more christmas-y than that?! it just looks pretty. it gets first prize for being beautiful. and you know what, it actually tastes even better than it looks!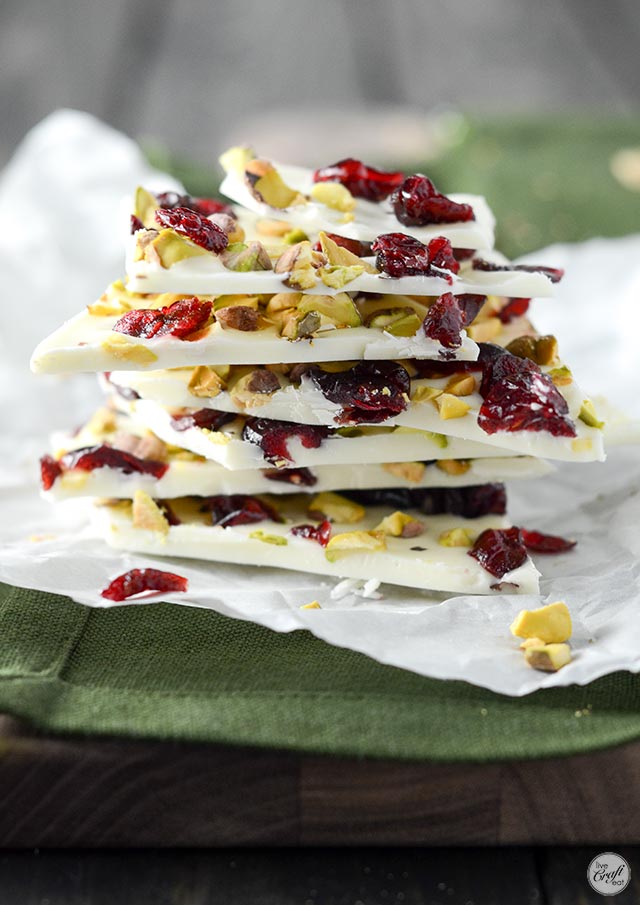 all you need are white chocolate wafers (aff link), craisins (you could even use the cherry-cranberry craisins [aff link] and it would be amazing! cherries and pistachios were meant to be together), and roughly chopped pistachios.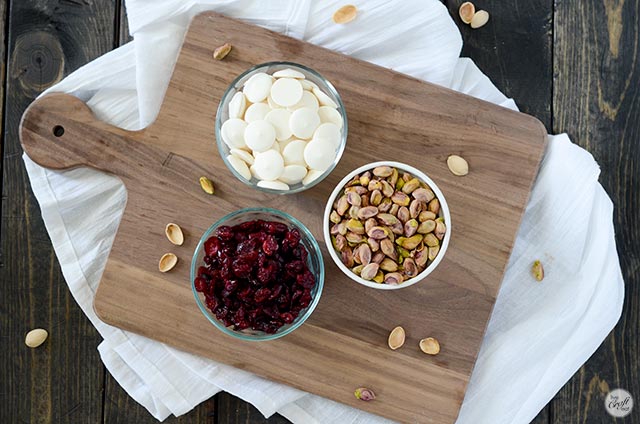 the first thing you need to do is line a baking sheet with parchment paper (aff link). i like to use these 1/4 baking sheets (aff link) because they're the perfect size to put in my fridge when i'm ready for the chocolate to cool and harden.
next, melt the white chocolate wafers in a microwave-safe bowl (aff link) in 30-second intervals, stirring in between each one until there are just a few lumps of white chocolate left. when that's the case, just stir so that the warm, melted chocolate slowly melts the rest of those chocolate lumps and you have a smooth, silky consistency.
pour the melted chocolate onto the parchment-lined baking sheet…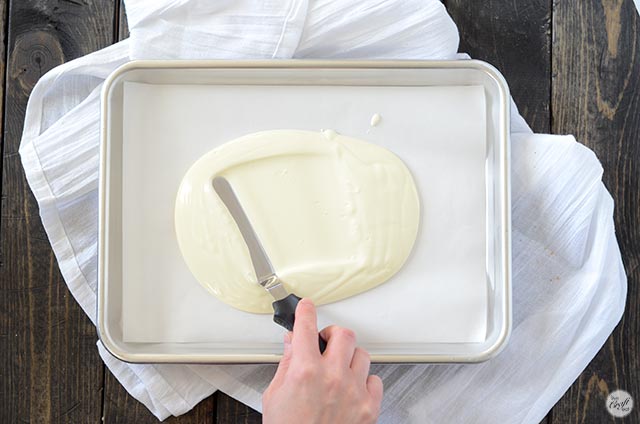 …and spread it out into a thin, even layer.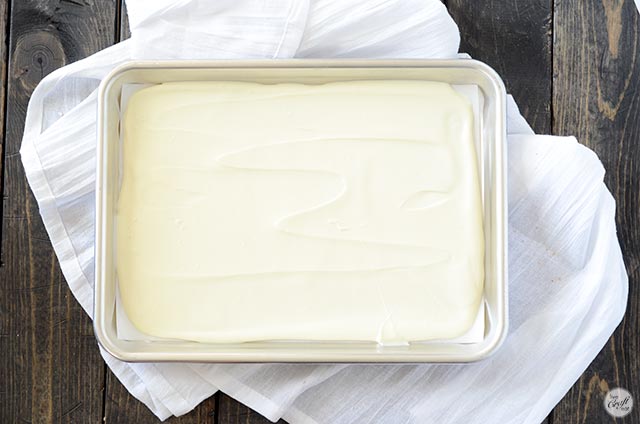 working pretty quickly – because you don't want the chocolate to set before you get the rest of the ingredients onto it! – sprinkle the chopped pistachios over the white chocolate layer…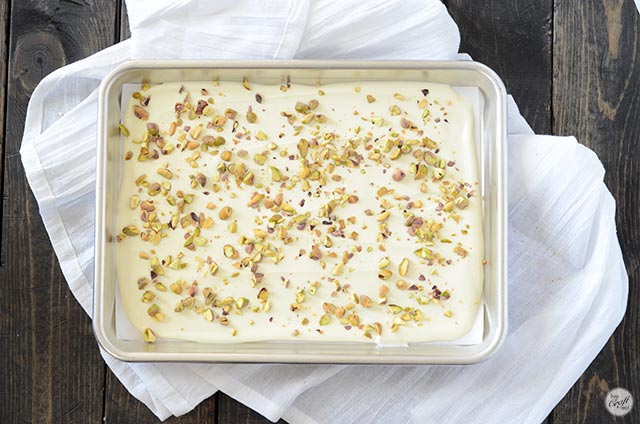 …and then sprinkle the craisins. look how gorgeous this looks! so festive! place it like this in the fridge to cool and harden.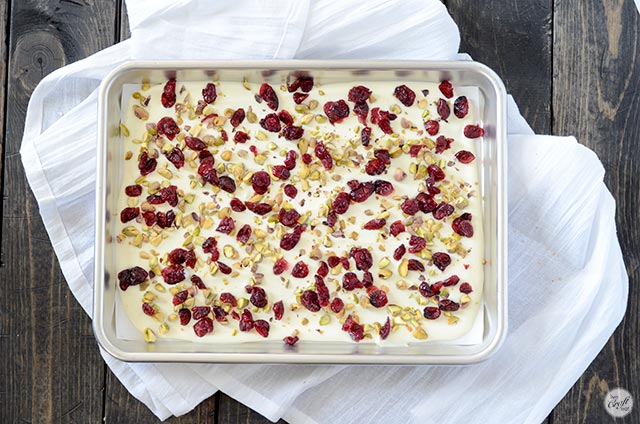 once it's hardened, pull it off the baking sheet using the corners of the parchment paper, peeling the parchment paper off the bottom of the chocolate, and setting the chocolate bark on a cutting board.
break or cut into large pieces. go ahead and take a bite for yourself and see just how yummy this simple, uncomplicated treat can be!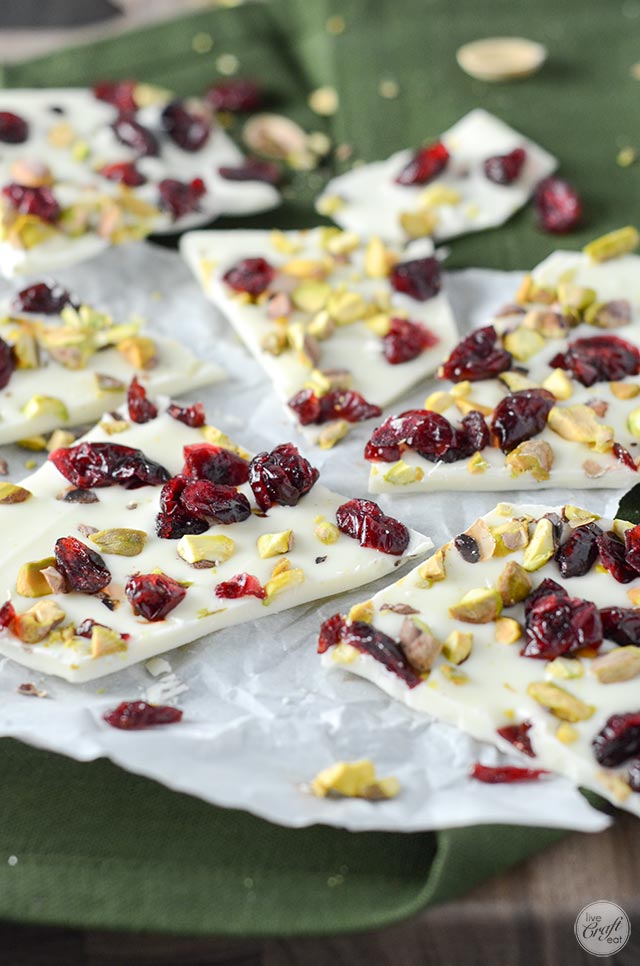 this white chocolate bark is perfect for having around the house during the holiday season or for packaging up in cellophane bags and tying with a big bow to give to neighbors, friends, and teachers. i think anyone would love to receive this for a sweet christmas treat!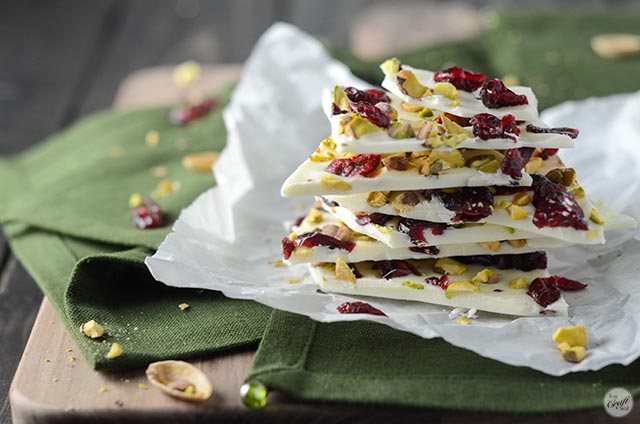 i hope you enjoy this bark, and/or any of the other bark flavor combinations i've posted about ::
milk chocolate + white chocolate + candy cane
milk chocolate + pretzel + peanut butter and white chocolate drizzle
and of course this white chocolate + pistachios + craisins bark.  have you made bark before? what combinations did you use?