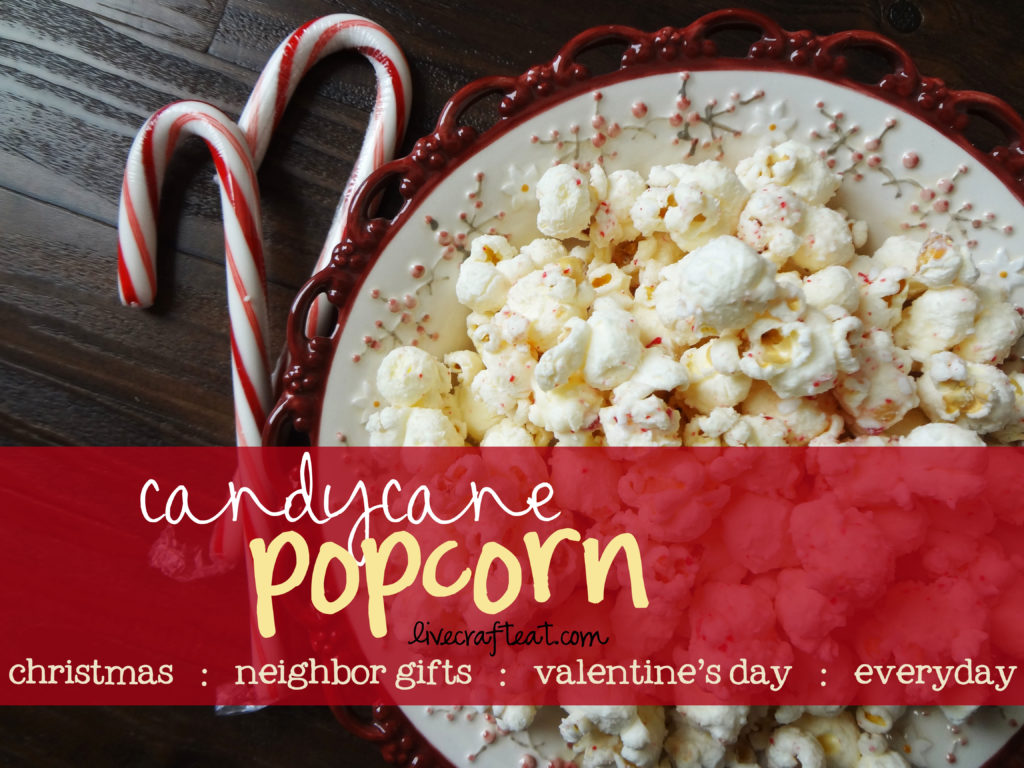 i first laid my eyes on candy cane popcorn a few weeks ago at my sister's house. i saw it on the counter and when she told me what it was, i was a little hesitant to try it. i mean, don't get me wrong – i LOVE me some mint, but i usually only eat my popcorn with lots of butter & salt so the thought of popcorn and mint seemed a little odd to me. but it was all in my head. i took a piece of popcorn, popped it in my mouth, and LOVED it!!! it tasted so gourmet – like the kind of popcorn you'd buy at an over-priced shoppe. so i asked her what was in it…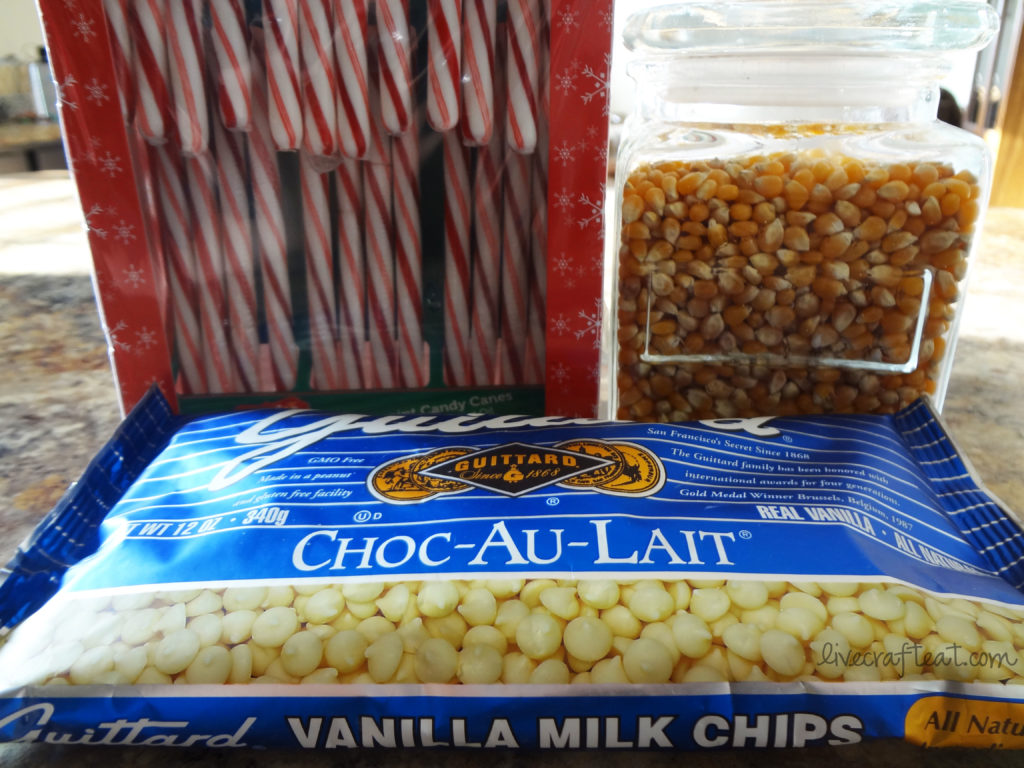 whaaat?!
candy canes, white chocolate, and popcorn? that's it?!
i knew i had to make some. here's my setup.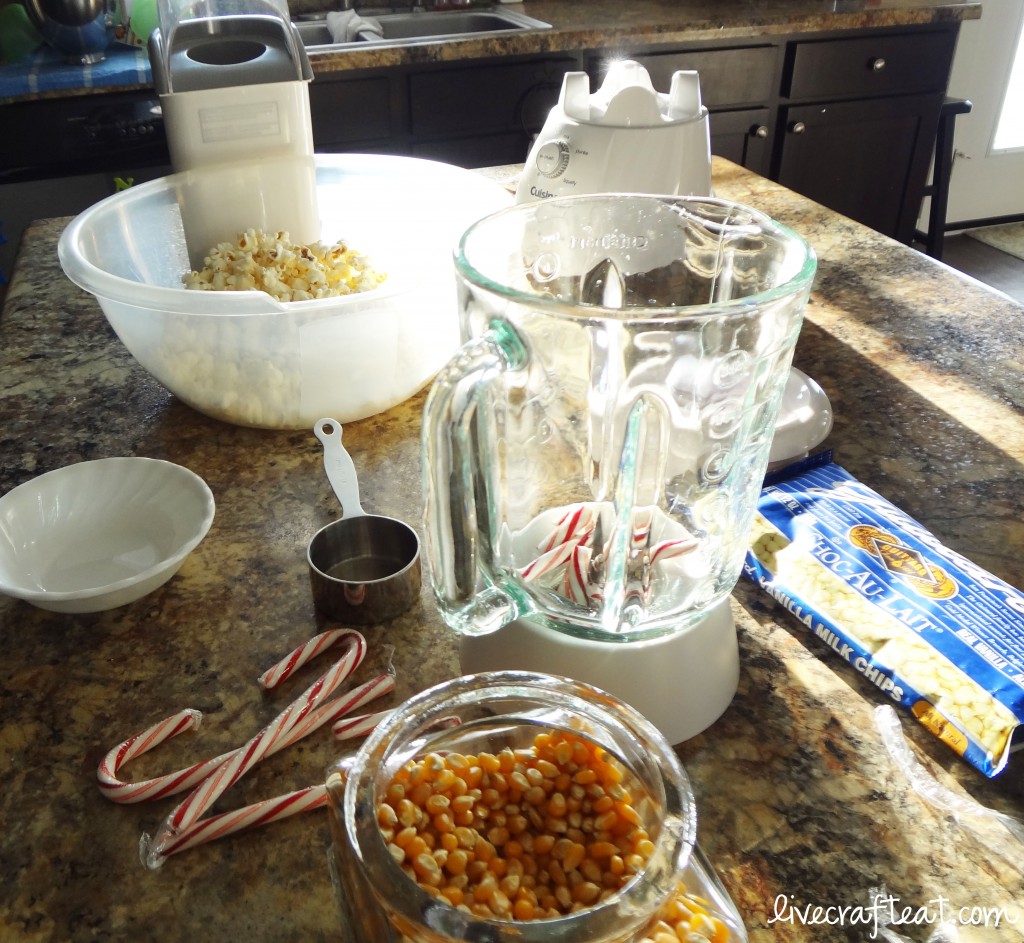 there really aren't exact measurements, so the more popcorn you make, the more chocolate and candy canes you'll want, but don't feel like you have to make a huge batch at first. try it out, get a combination that you really like and then when you find your perfect chocolate and candy cane ratio, double, triple, or quadruple it! i used about 15 cups of popped popcorn, 1 bag of vanilla chocolate chips, and 6 candy canes.
the first thing you do is pop a bunch of popcorn into a big bowl.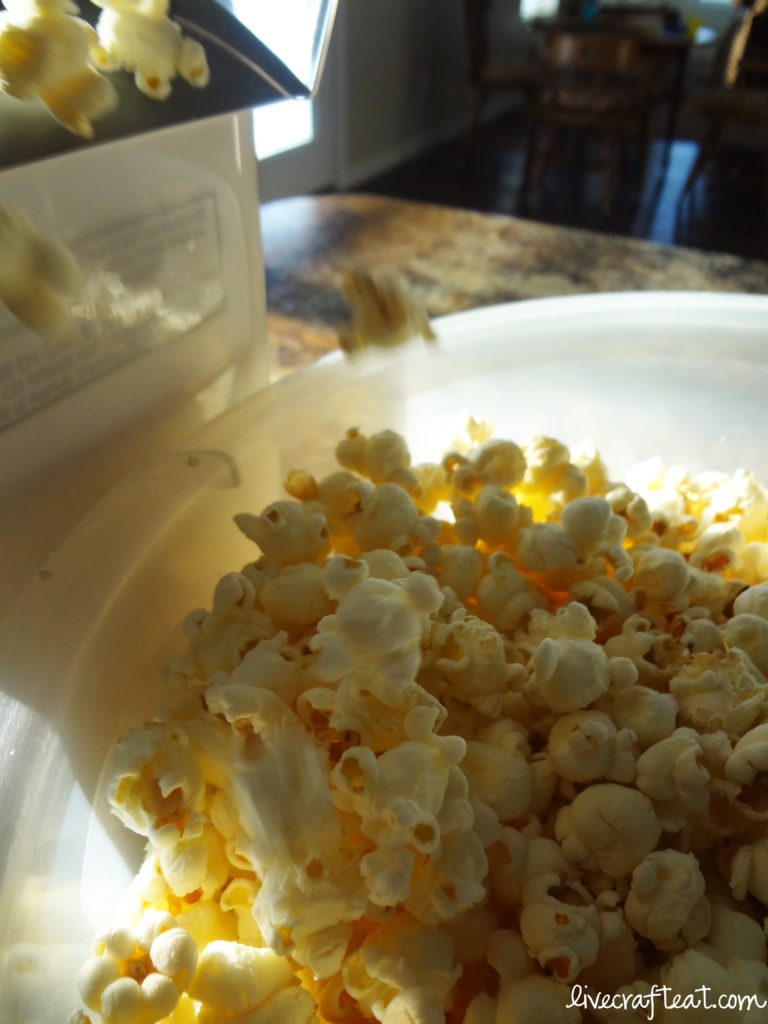 then, take your candy canes, break them up a little bit and put them in the blender. pulse until you get little bits like this: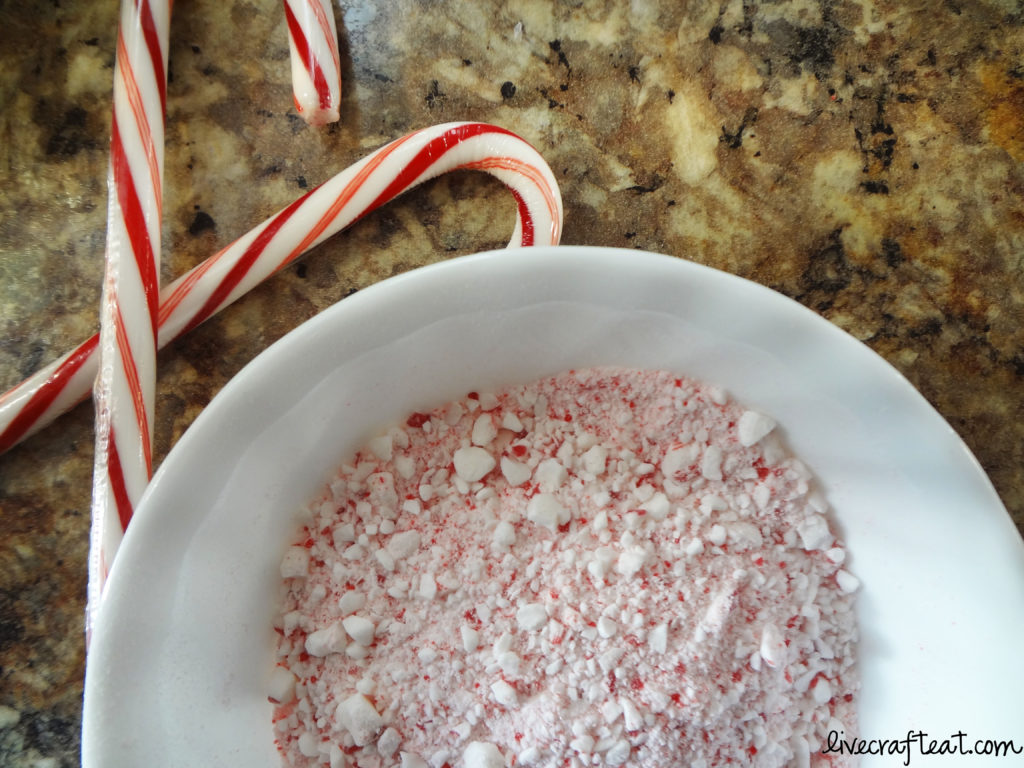 get out your chocolate chips. you're almost ready to assemble! (see how fast this is, too?!)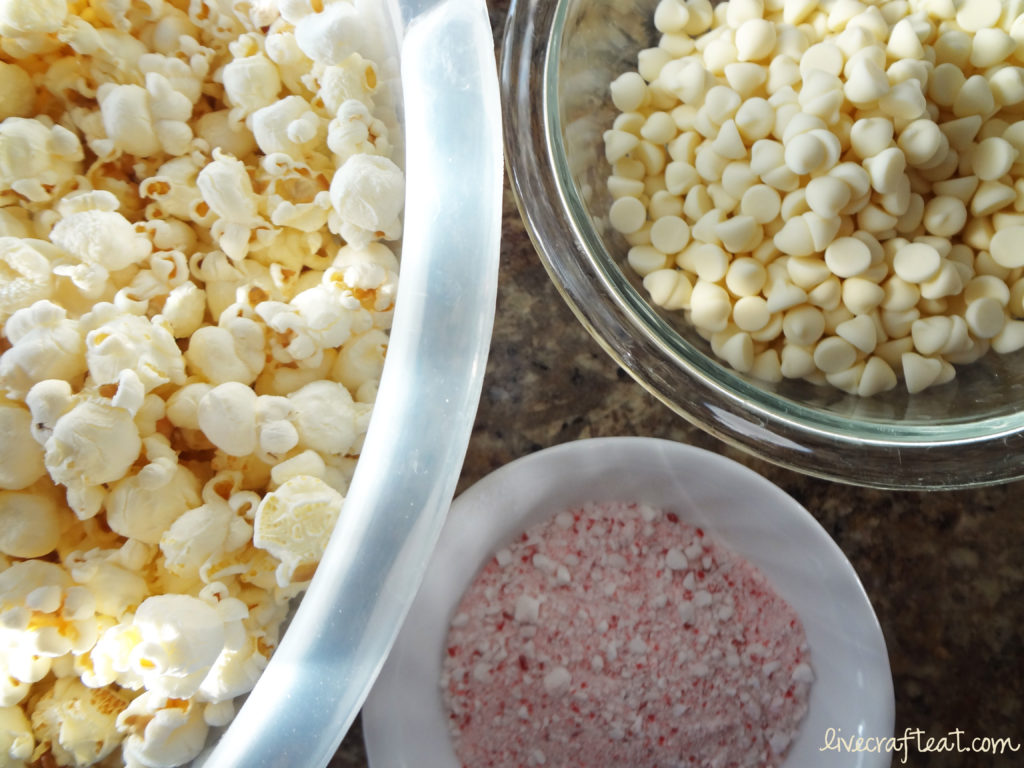 pour your chocolate chips into a microwaveable bowl. heat in increments of 30 seconds until it starts to melt when you stir it. i ended up only needing to microwave it for 1.5 minutes.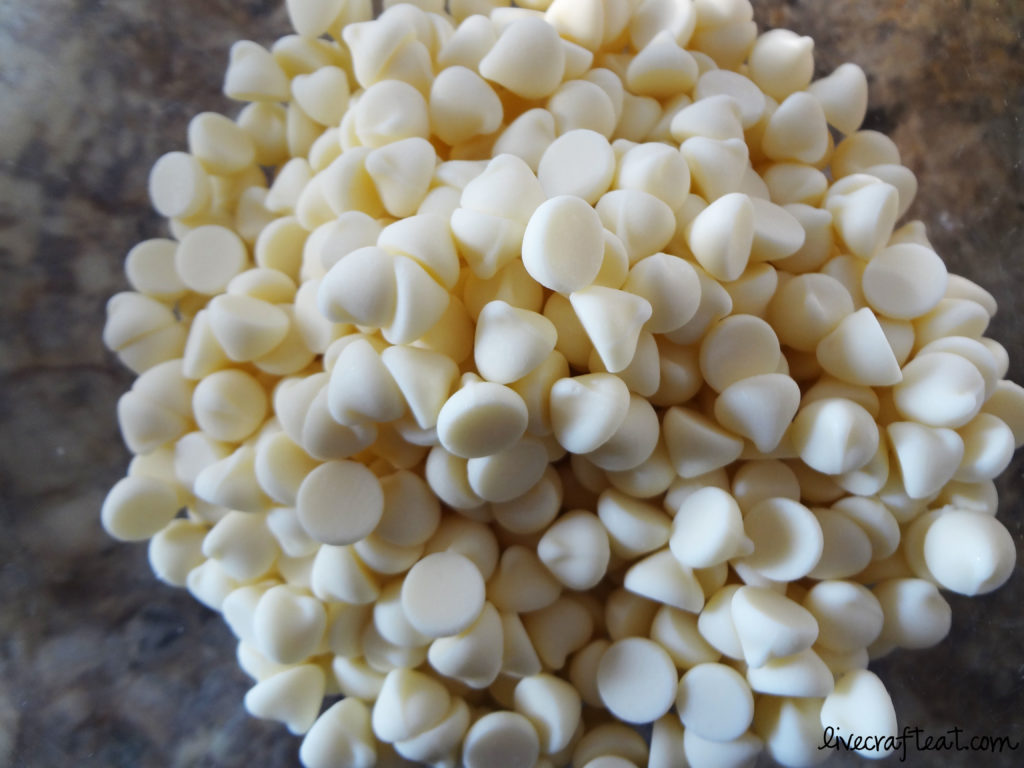 you'll probably have whole pieces of chocolate chips still in the bowl, but as you stir it all together the rest should all melt.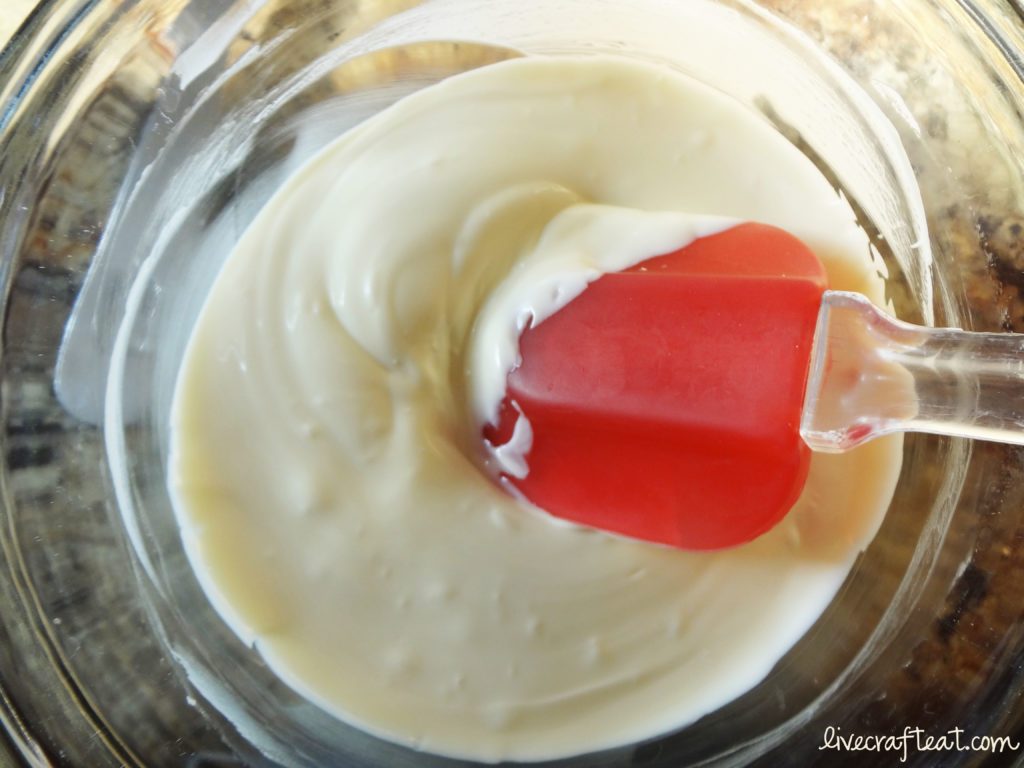 now's the fun part! drizzle 1/2 of the white chocolate over the popcorn and stir to coat. add 1/2 the candy cane bits and stir it again. add the rest of the chocolate and stir. add the rest of the candy cane bits and stir.
when it's all mixed in really well (you might have to use your hands to get it all mixed in well enough), pour out the popcorn onto sheets of waxed paper on your counter top. spread them out in a single layer and leave for about 15 -20 minutes so the chocolate has a chance to set (and so all the popcorn doesn't stick together).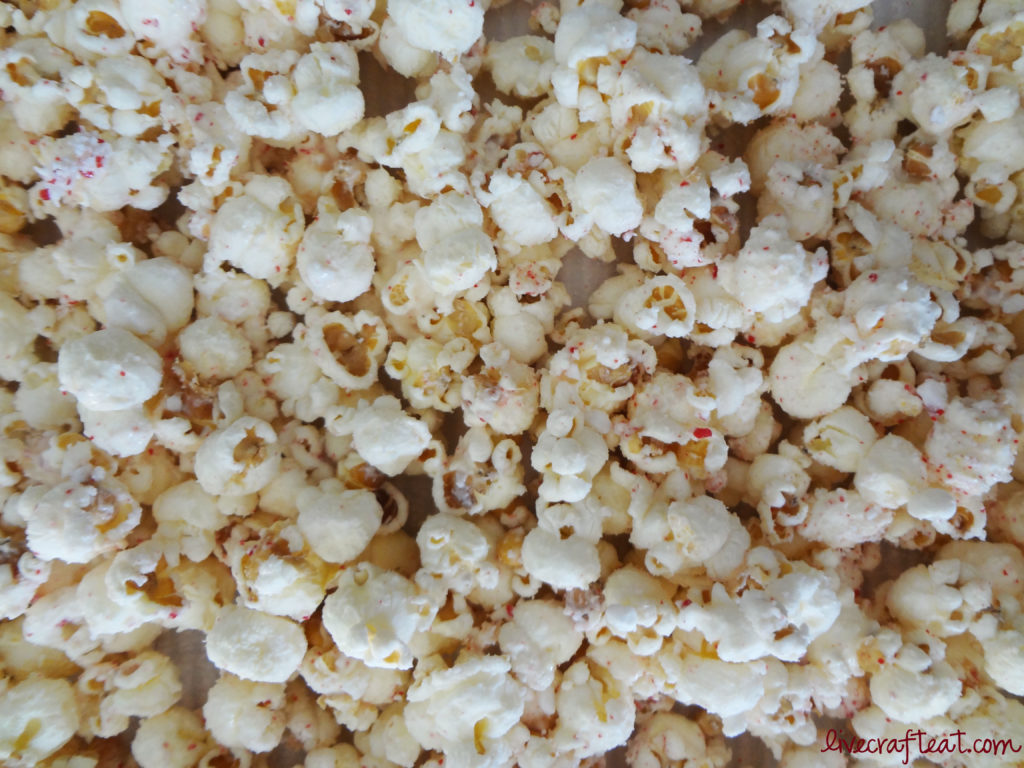 see those cute little red pieces on the popcorn? yum. but you won't see the white chocolate because, well, it's the same color as the popcorn. but it's there! i promise. it's what's helping to keep all the candy cane awesomeness on there.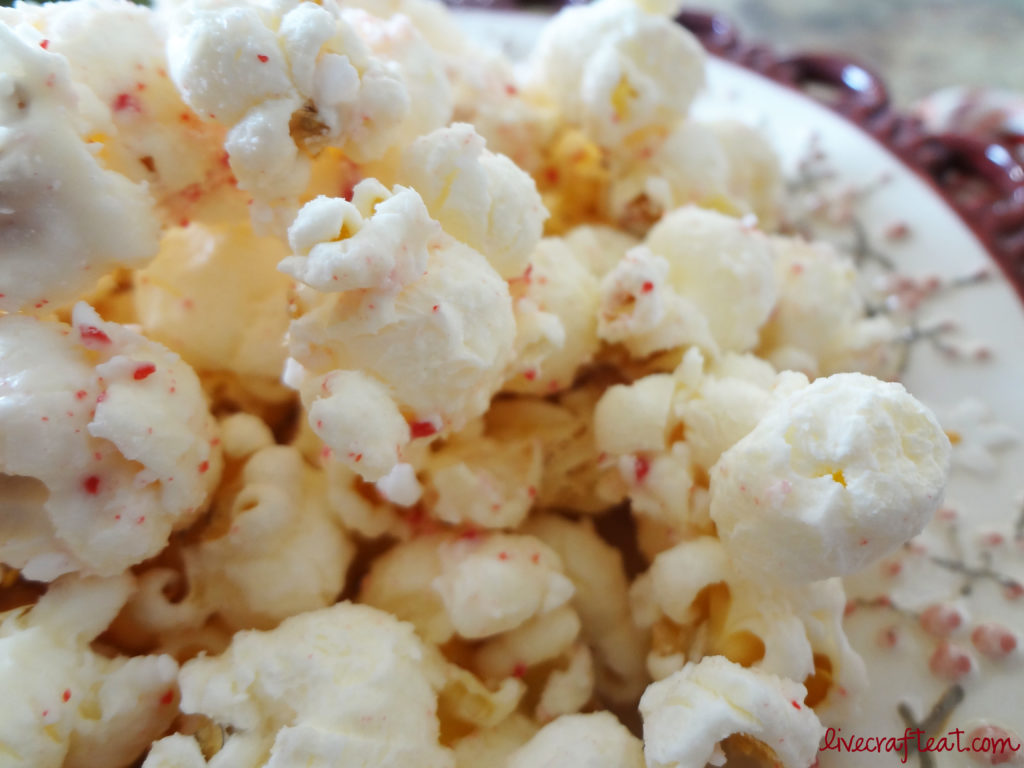 what to do with it when you're done? well, you could eat it! (and i'm sure you will.) and if there happens to be any left after that, you could put it away in plastic containers for another day.
or you could package it up in some cellophane bags tied with red ribbon and a cute little tag for your neighbors.
or you could box them up and give them away as valentines treats (since i got my candy canes AFTER christmas this is what we'll be doing! it's red and white…it works!!)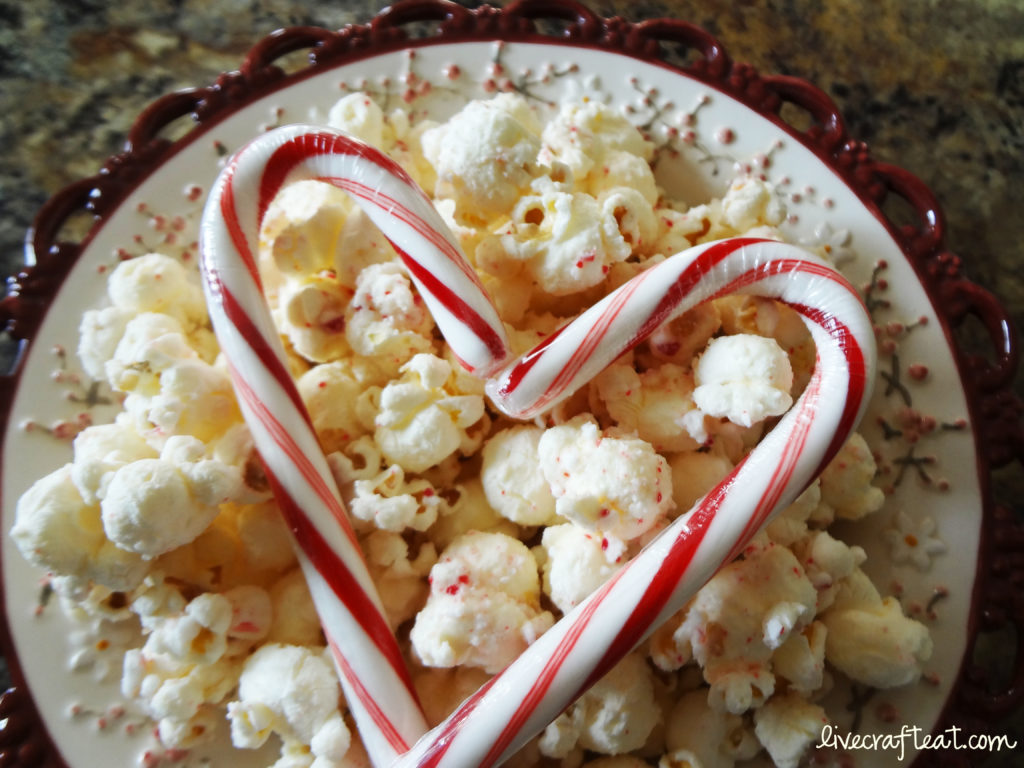 so next christmas when you see all those candy canes waiting for someone to buy them and take them home, you'll now have a new and delicious reason to buy a whole bunch!