friday nights at our house are usually pretty low key and are spent relaxing and spending time together as a family after a long work/school week. most weeks it involves playing outside with dad (or inside, during the winter months), making homemade pizza, and watching either a sports game or a movie on tv. i always prefer to stay at home where it's ok to stay in my pjs and where we can choose and make our own treats for movie night. one thing both the adults *and* the kids in our family like to snack on is popcorn (who doesn't?!), and when we're not eating homemade caramel popcorn, or candy cane popcorn around the holidays, we like to make this white chocolate-coated smorgasbord of a popcorn bowl that has just about everything you could want to satisfy your sweet (and salty!) tooth.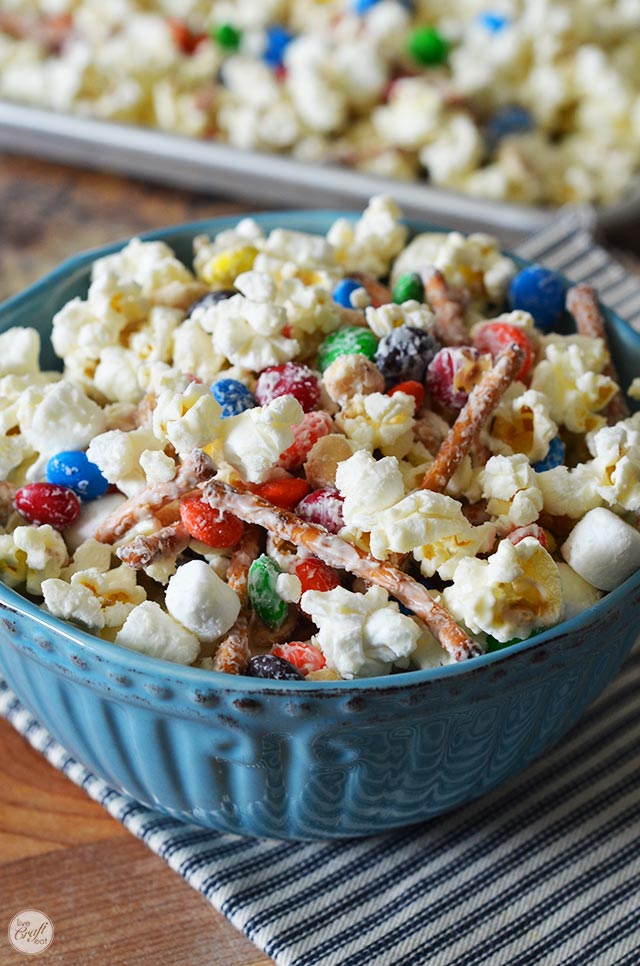 it really could not be easier to make. and, you can always add more or less of any of these add-ins, or you could throw in whatever other candy you think would taste great and make you smile while you're kicking back and enjoying your family movie night.
start with popcorn – you can air pop some popcorn kernels, or you can use a bag or two of microwave popcorn. if you use the microwave kind, just make sure it's not the super-loaded-with-a-crazy-ton-of-drippy-butter variety. there are lots out there that are very simply and lightly salted and i think they work best for this.
the other thing you'll need is a bag (or two – depending on how much you're making!) of good quality white chocolate chips.
other than that, we like to add in pretzel sticks, m&ms, peanuts, and mini marshmallows.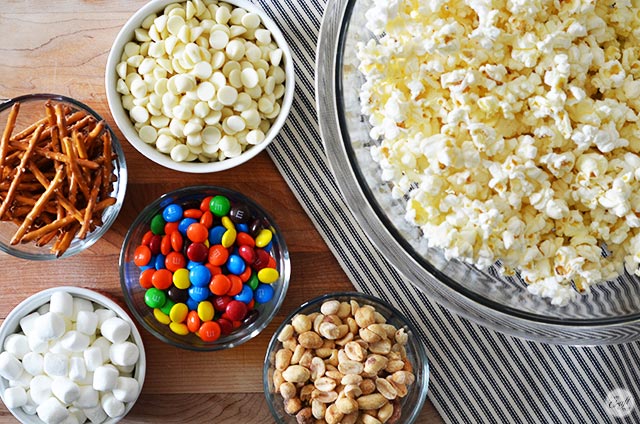 grab the biggest bowl you've got and get everything in there, except for the white chocolate chips – they'll come into play in just a second. our kids love throwing in however much they like of each add-in…that is, whatever they haven't already eaten.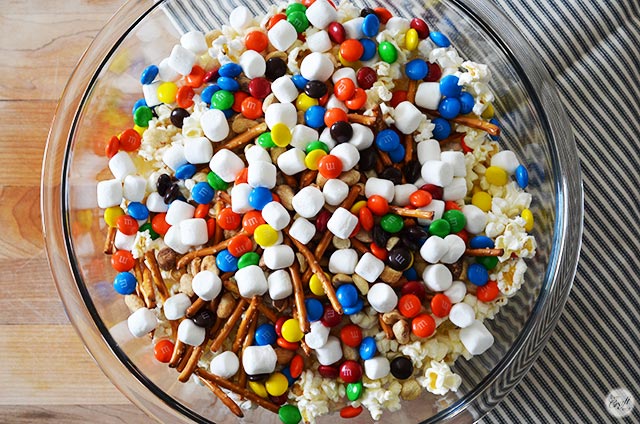 now's the time to grab your white chocolate chips and put them in a microwave-safe bowl. the thing about melting chocolate is that if you over do it it will totally sieze up on you and you won't be able to melt it down again at all. so when melting in the microwave i always do 30-second intervals. after each interval i stir the chocolate to see how it's doing and to circulate it around so there aren't any "hot spots." if there is still a significant amount of chocolate unmelted i put it in for another 30 seconds, and so on, until there are only a few unmelted chunks left.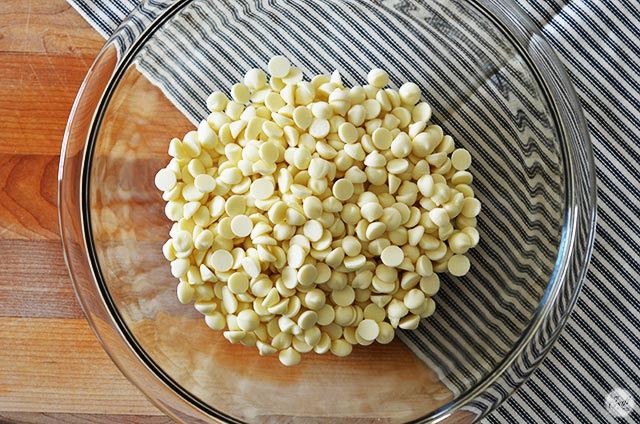 you can see in the picture below that there are still a few pieces of unmelted chocolate, but because the rest of the chocolate is so warm those little pieces will melt when i stir it. putting it in the microwave for any more time at this point would be a mistake!
this white chocolate is going to be the "sweet" that coats all the mostly "salty" ingredients in our popcorn bowl.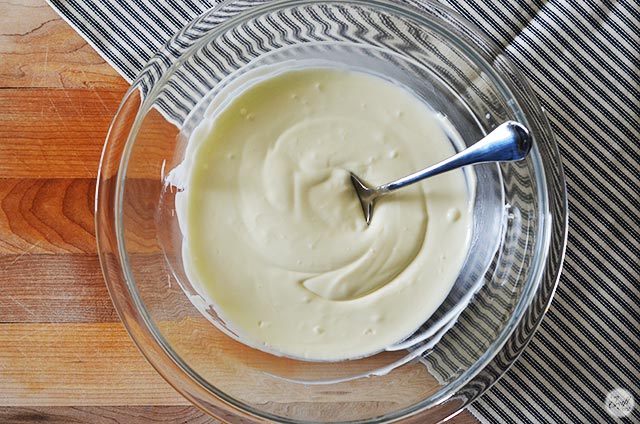 so just drizzle it on top (a glorious sight)…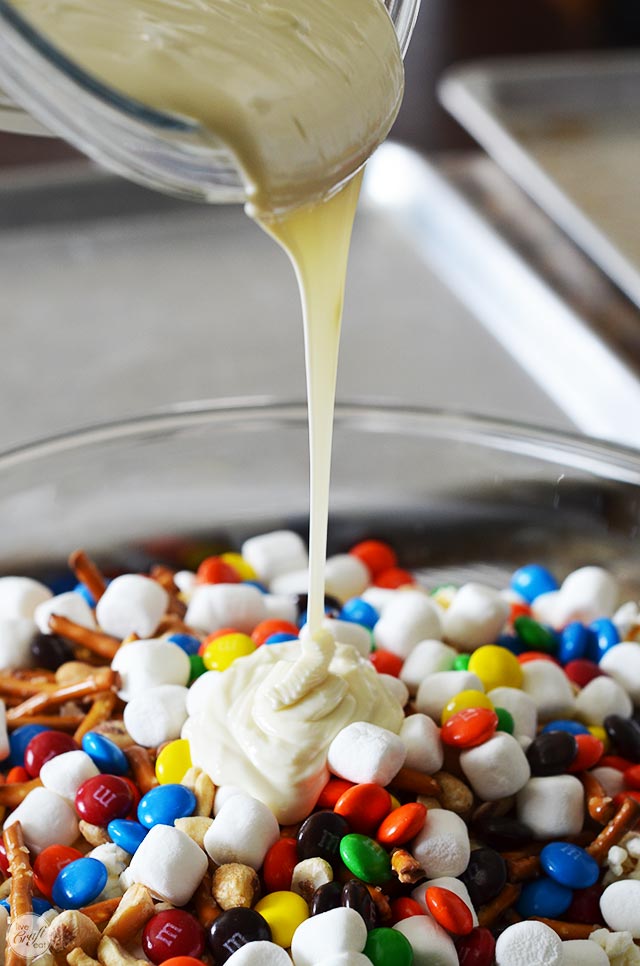 and then quickly and gently stir everything together in the big bowl, adding more chocolate, as needed (or wanted!), before spreading everything into a single layer on parchment-lined baking sheets to cool and set for a little while.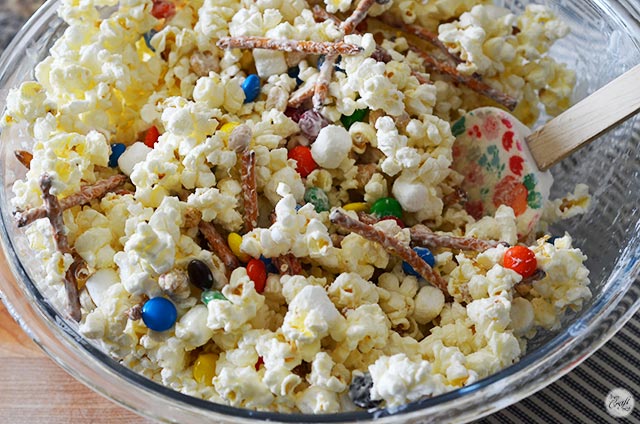 and if you can refrain from eating it all before it totally sets, congratulations! if you have any left for movie night, put a whole bunch into individual bowls for everyone, get in your pjs, and curl up with a blanket for a fun family movie night!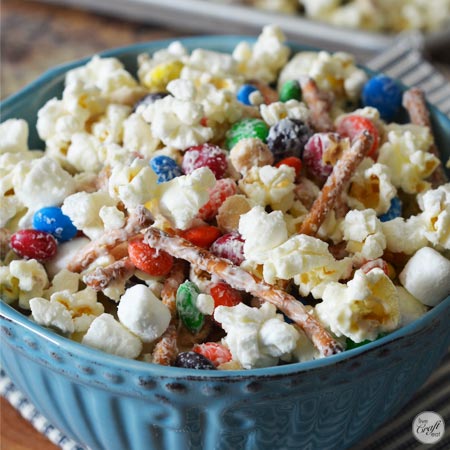 here's the "recipe" – if you can call it that. though like i said above, add however much of whatever you want…play with it! have fun!
Print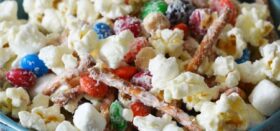 white chocolate m&m popcorn
---
2

bags microwave popcorn, popped (or

8

–

10

cups air popped popcorn)

1/2

–

1

cup m&m candies

1 cup

mini marshmallows

1/2 cup

pretzel sticks

1/2 cup

peanuts

1

–

2

packages good quality white chocolate chips
---
Instructions
pop the popcorn and discard any unpopped kernels.
in a large bowl (or working in batches), toss together the popped popcorn, m&m candies, mini marshmallows, pretzels, and peanuts.
melt the white chocolate chips in the microwave – 30 seconds at a time, stirring in between, until *just* melted.
pour the chocolate over the popcorn mixture and stir to coat everything.
spread the mixture out in a single layer onto cookie sheets and let set for 1-2 hours (if you can wait that long!).
store in an airtight container.