Is it August already? Does this mean summer is almost over?! Nooooo! I love summer so much and will be so sad to see it go. The only positive, in my opinion, is that the end of summer brings the beginning of fall, and fall is my favorite season of all!
If you're getting ready for back to school, whether your school year begins in August or September, you know that it is a busy time of year but also exciting as we gear up for lots of fun and learning. Here are some of my favorite free printables for school:
FREE SCHOOL PRINTABLES FOR PARENTS AND STUDENTS:
Free Printable First Day of School Signs and matching Last Day of School Signs
Free Printable Alphabet Worksheets
Free Printable Addition Charts
Free Printable Subtraction Charts
Free Printable Multiplication Charts
Free Printable Assignment Trackers
Free Printable Cornell Notes Templates
FREE SCHOOL PRINTABLES FOR TEACHERS:
Free Printable 2023 – 2024 Academic Calendars
Free Printable Student Information Sheets
Free Printable "All About Me" Worksheets
Free Printable Attendance Sheets
Free Printable Months of the Year Worksheets and Printables
Free Printable Days of the Week Worksheets and Printables
Of course, you'll need a calendar to help you keep everything organized with all of the back-to-school nights, paperwork to be filled out and handed back to the teachers, and brand-new routines and schedules. This Free Printable August 2023 is just the thing you need to keep track of it all! You can also check out printabulls.com where every single printable is free to print and use and they have so many free printable calendars to choose from!
To get the yellow banner August 2023 Calendar seen below, just scroll down a little bit further to the download link where you can click, download the PDF file, and print!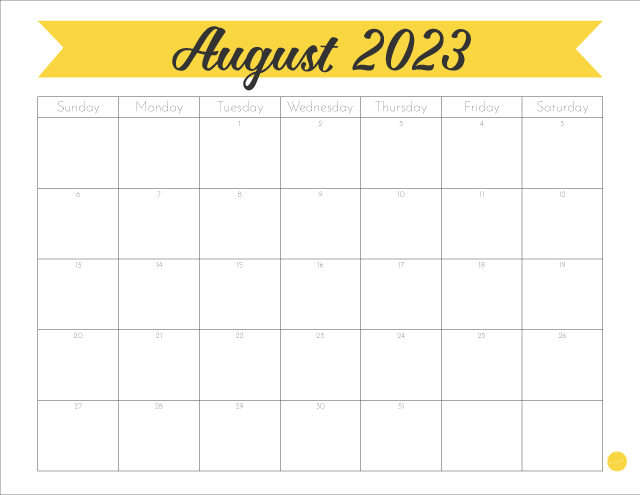 Happy August!