If the leaves are turning color and falling to the ground in your neck of the woods then you know that the busiest time of the year is right around the corner! Once November arrives we are headed into the thick of the holiday season with Thanksgiving and Christmas right on our heels. Procrastination is not our friend these last couple of months so give yourself a hand by getting some free printable organizational helps to give you a great headstart to all your planning and preparation!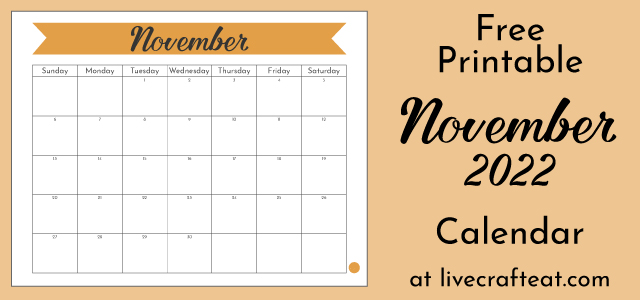 Our free printable November 2022 Calendar below is perfect for planning anything you need: meals, schedules, appointments, parties, to-dos, etc. But if you're looking for something a little more Thanksgiving-centric (whether that be planning the big Turkey Day itself, decorating your table, or fun Thanksgiving activities for the kids) then check out these free printables from our friends at printabulls.com:
Free Printable Thanksgiving Cooking Schedules
Free Printable Thanksgiving Shopping Lists & Checklists
Free Printable Thanksgiving Placemats
Free Printable "I Am Thankful For" Worksheets
Free Printable Thanksgiving Color By Number Pages
Free Printable Thanksgiving Word Searches
Free Printable Turkey Templates
Free Printable Turkey Coloring Pages
Free Printable November Coloring Pages
Free Printable Thanksgiving Bingo
Free Printable Happy Thanksgiving Coloring Pages
Free Printable Thanksgiving Word Scrambles
Free Printable Thanksgiving Cards
Free Printable Thanksgiving Place Cards
Free Printable Pilgrim Coloring Pages
Or check out their free organizational printables for all your calendar and planner needs and more!
Without further ado, here's our free printable November 2022 Calendar!