We may sing that December is the "most wonderful time of the year" and while that may be true I would also say that November comes in a very, very close second. While December and Christmas are certainly wonderful, I can honestly declare that November, with its colorful leaves, cool breezes, and football games under the lights is my favorite time of the year. We have just a little bit of time before the snow comes and the hustle and bustle of the Christmas season arrives, which is where this Free Printable November 2023 Calendar will come in so handy! If there is anything you can accomplish or plan ahead of time to make your Thanksgiving and Christmas holidays stress-free then I would encourage you to do it! Having a calendar makes it easy to write in all your appointments, to-do lists, meal planning, etc so you can organize your life and take advantage of the time you have now.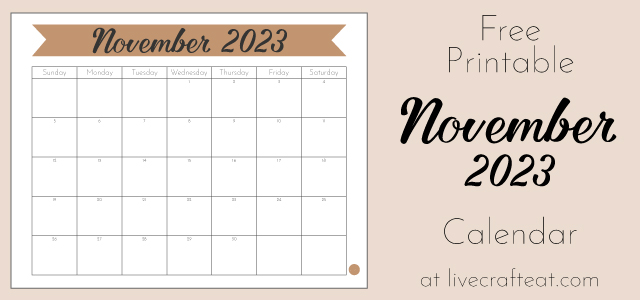 To get your free November 2023 calendar simply click on the link under the calendar image below to download the PDF file, and print!
If you want even more free printables to help you out this November, including Thanksgiving, visit our friends at printabulls.com where they have so many Free Printable November Calendars to choose from and a ton of Thanksgiving Printables and coloring pages.