A lot of times when I find a really great printable planner I read through the post, fall in love with it, and decide the planner is just right for me until I get to the end and am told that it costs a bunch of money. I'm not saying that people should just give things away for free – if they do the work then of course they have the prerogative to charge money for it. I'm just saying that I love me a free printable planner! So before we go ahead, I just wanted to let you know that this Ultimate Christmas Planner is 100% free for you to print! No strings attached as long as you download it for personal use. I just want you to not be stressed this Christmas and to also not have to spend a lot of money trying to get organized.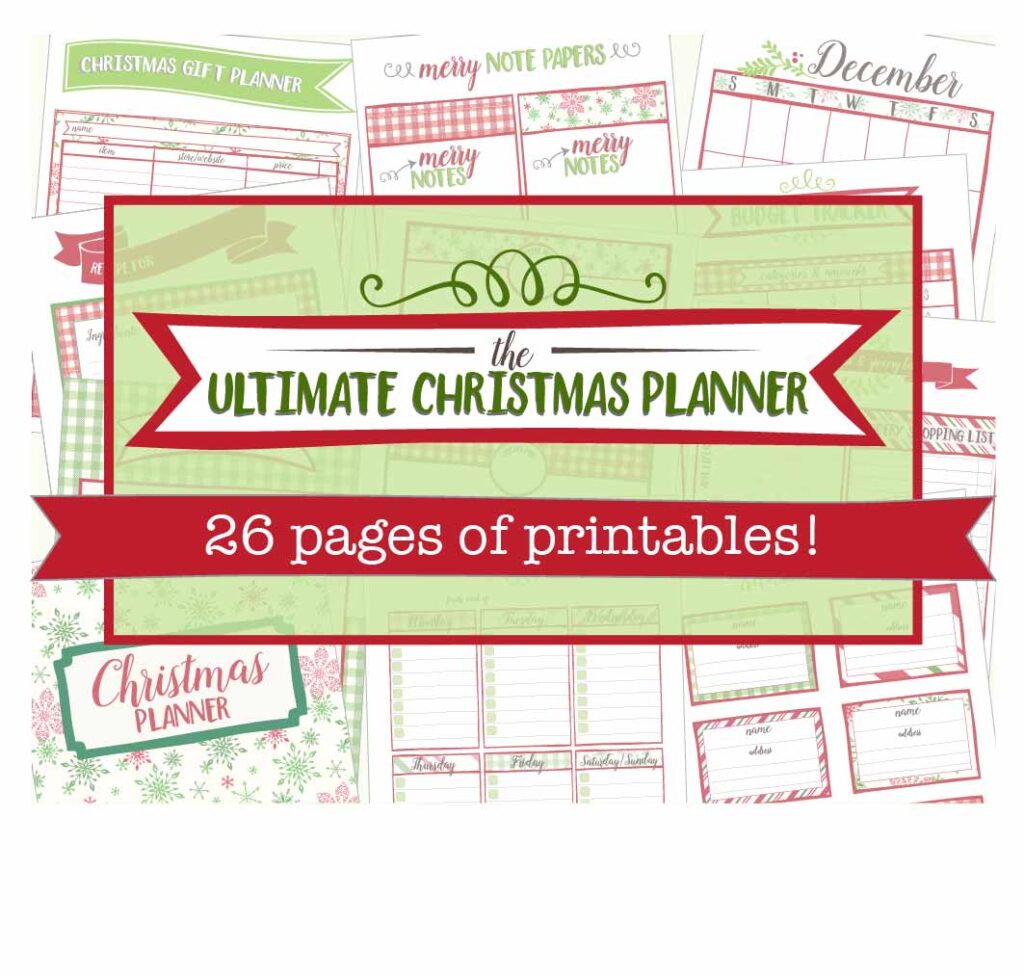 With that said, I love Christmas! It stresses me out, but I absolutely love this time of year! I don't think I'm the only one. The bigger my family gets and the more traditions we acquire as a family the busier and more time-consuming each year gets. We have all the same traditions as other families: decorating gingerbread houses, baking cookies for Santa, a big Christmas Eve dinner & Christmas day brunch, amongst many others. We mail Christmas cards and deliver neighbor gifts, and there is always shopping to be done. And it can all be a little overwhelming. Which is why we need to plan to avoid all the stresses that come with it. It's supposed to be a joyful time! Not a time worrying that everything will go perfect (which, by the way, it never does…but we can try!).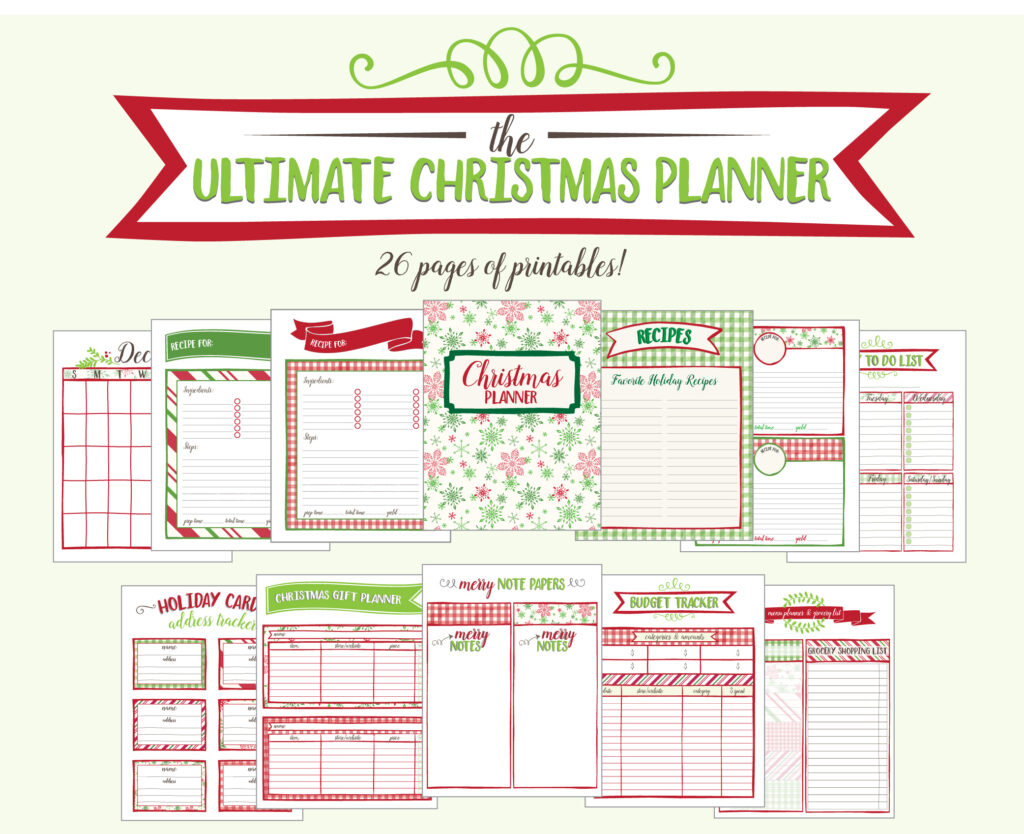 With this free printable bundle you'll get 26 pages to keep your organized! (Some examples are in the image above.) Keep them all in a special Christmas binder and you'll be the most organized person in town!
Some of these pages are: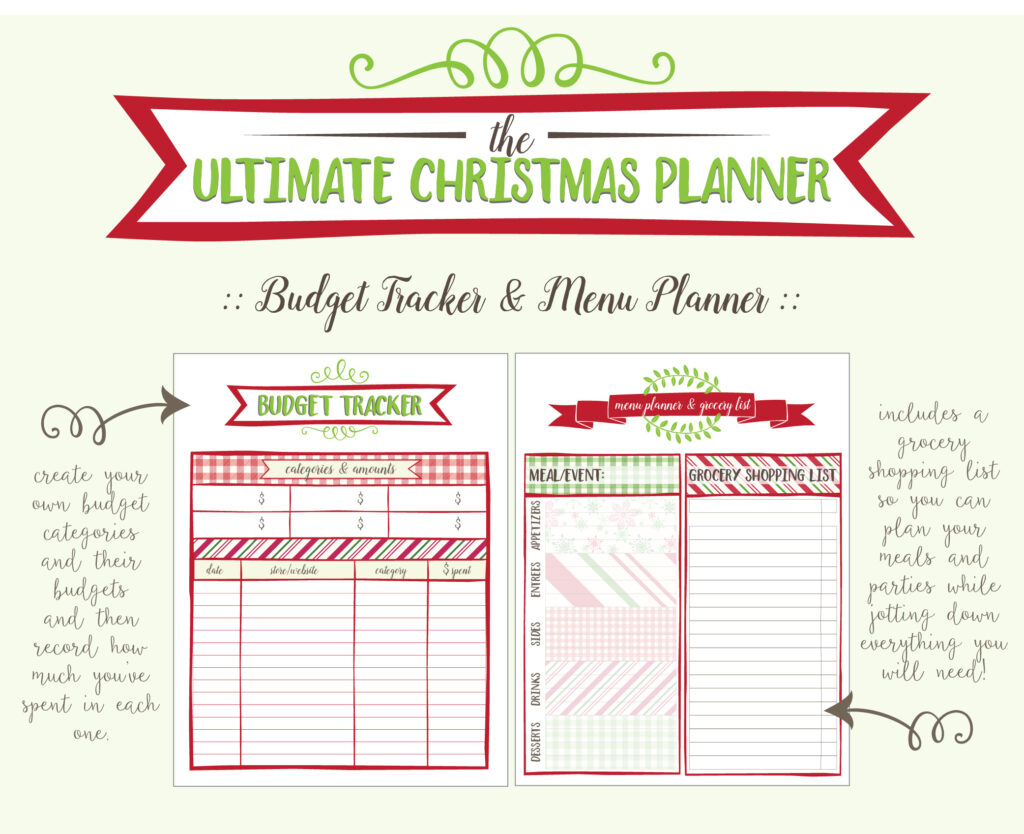 A Budget Tracker. This is arguably the most important aspect of planning for Christmas. You need to set budgets for different categories like gifts, food, decorations, outings, etc, and you need to know how much money you're spending. This page is where you keep that all organized.
Menu Planner & Grocery Shopping List. Whether you're hosting a large or small get together you need to plan out what dishes you'll be serving and what ingredients you need to make them. Nobody wants to realize they forgot something on Christmas Day!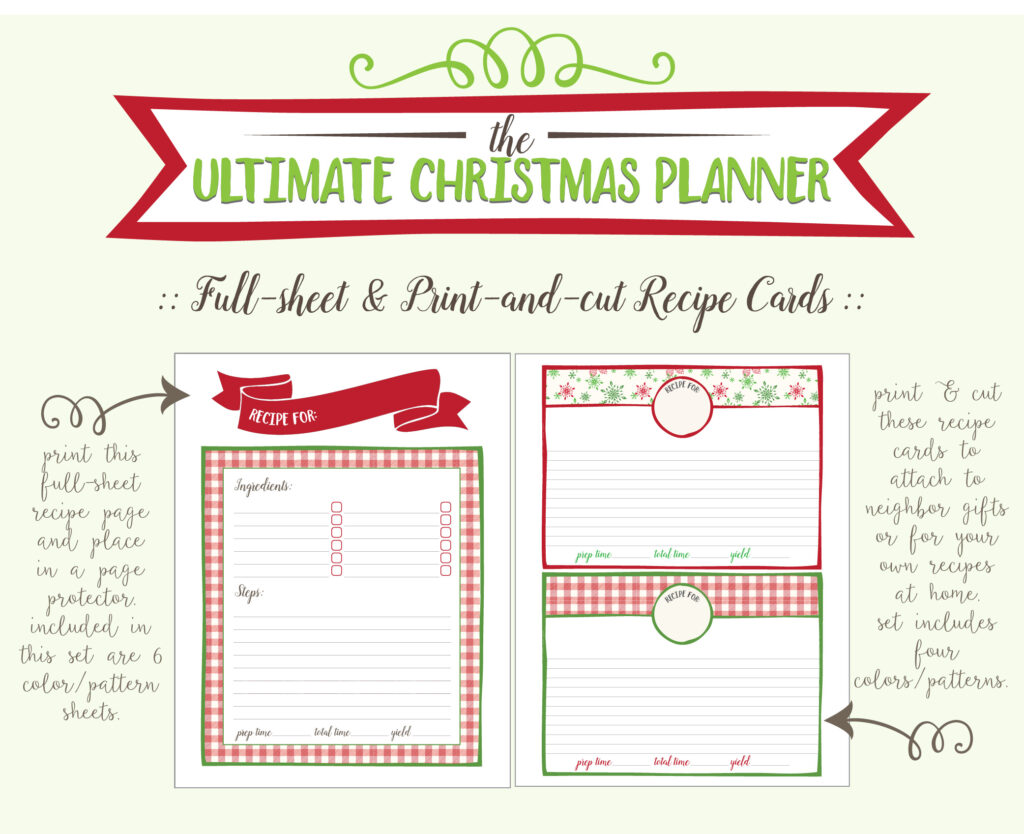 Recipe Sheets & Recipe Cards. Speaking of menu planning, perhaps you make the same special, homemade, passed down from generation-to-generation dishes and want to keep all the best recipes in one place. This is it! Put them all in here so each Christmas you just have to pull out your binder and you've got them all ready to go.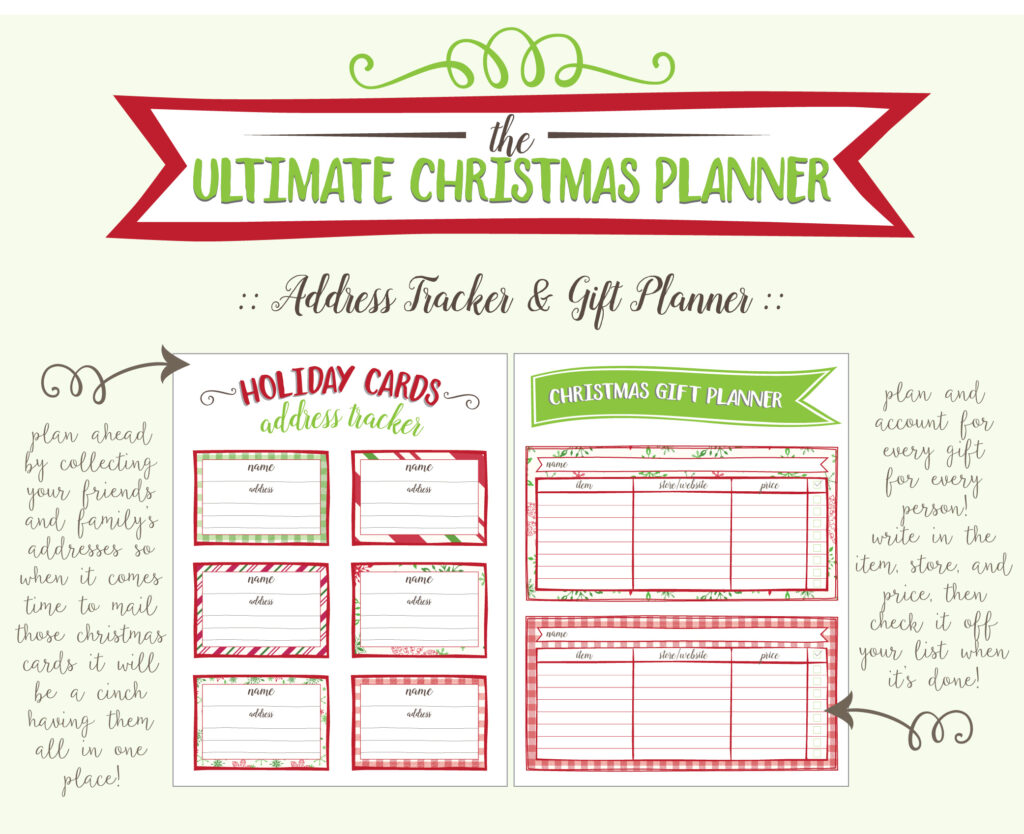 Holiday Cards Address Tracker. It is especially important to keep everyone's addresses all in one place. We all know how tedious it can be to track down addresses and get envelopes labeled and mailed off in time for Christmas. It's a big job! Make it easier for yourself by at least knowing where all the addresses are that you'll need.
Christmas Gift Planner. As with all of these pages you can print out as many of these as you need! It you've set a budget for each person you need to buy gifts for you can keep track of it here! You can also keep tabs on where you bought it (in-store or online). And if you want to be extra organized, you can keep gift ideas in here throughout the year of what you think the people you'll be buying for like. Did he mention he liked those shoes? Did she mention that shirt? Write it in and you'll be that much more ahead of the game.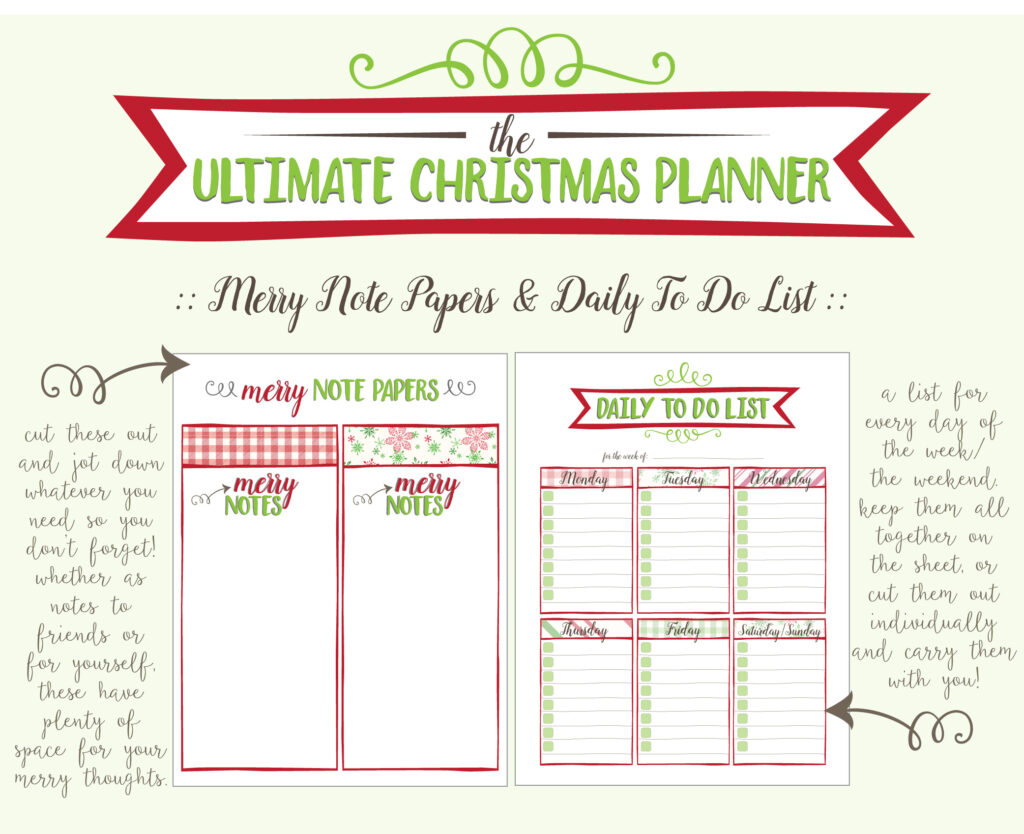 Daily/Weekly To Do List. There is a lot to do around Christmastime. Going grocery shopping, making gifts, wrapping, baking…all the things! Keep yourself on top of it all by writing in your to do list for every day of the week. Print as many weeks as you need!
Merry Notes. And just for fun, you can print these note papers to keep track of all those little random things you need to remember. You can print the sheet and keep it in your binder, or you can even cut out the note papers and staple them together to make a little notepad. Keep it near your fridge, in your purse, or beside your bed to have it handy whenever you think of something you need to write down!
Are you ready to download your free printable Ultimate Christmas Planner? Click here!
You are now well on your way to being better organized this Christmas! Give yourself a pat on the back! Or better yet, treat yourself to a cookie…you've got a lot of work ahead of you. You deserve it!