here is part 2 of what i am unofficially calling the homemade caramel series. last year we posted this amazingly simple and delicious homemade caramel recipe, and this week we're going to show you just what you can make with it. it is fabulous for just eating on its own, of course, but you can create so many great things with it, so we're posting about our 3 favorite.
our first post was how to make chocolate caramel pretzel rods, which are a real show-stopper.
our second post (this one) is about how to make chocolate covered caramels.
our third post ???
just kidding. it's not a secret. we'll be making homemade turtles with that homemade caramel and believe me, you do not want to miss it!! so easy and so so goooood.
but back to today, for an equally easy and yummy treat….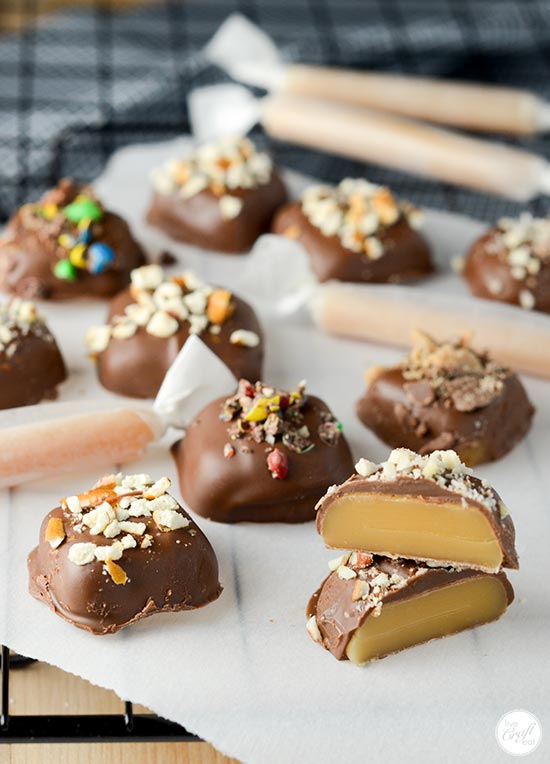 these chocolate covered caramels are just what santa ordered. and it's easy to see why. these are made with homemade caramel, chocolate melting wafers (aff link), and whatever small or chopped up topping you'd like! this time we used chopped up pretzels, finely chopped almonds, chopped heath bar, mini m&ms, and sea salt (aff link). or, you could just eat them as caramel + chocolate and that wouldn't be bad either. 🙂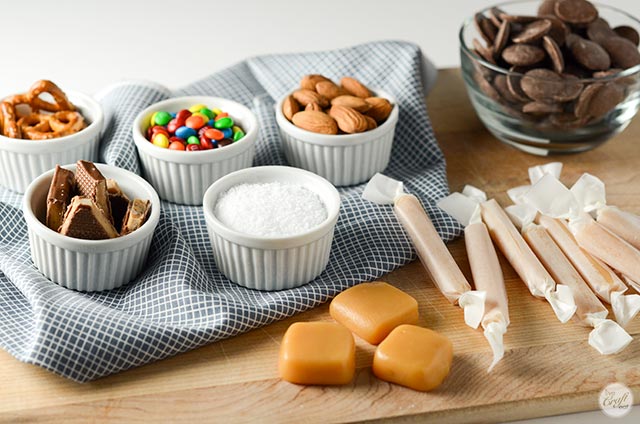 the first thing you'll need to do is make the caramel. it's really easy and won't take too long – maybe an hour from start to finish, including cooling time. the cooling time is the bulk of the time, so you can be doing other things while it gets to room temp and set up. but look how good it looks…!!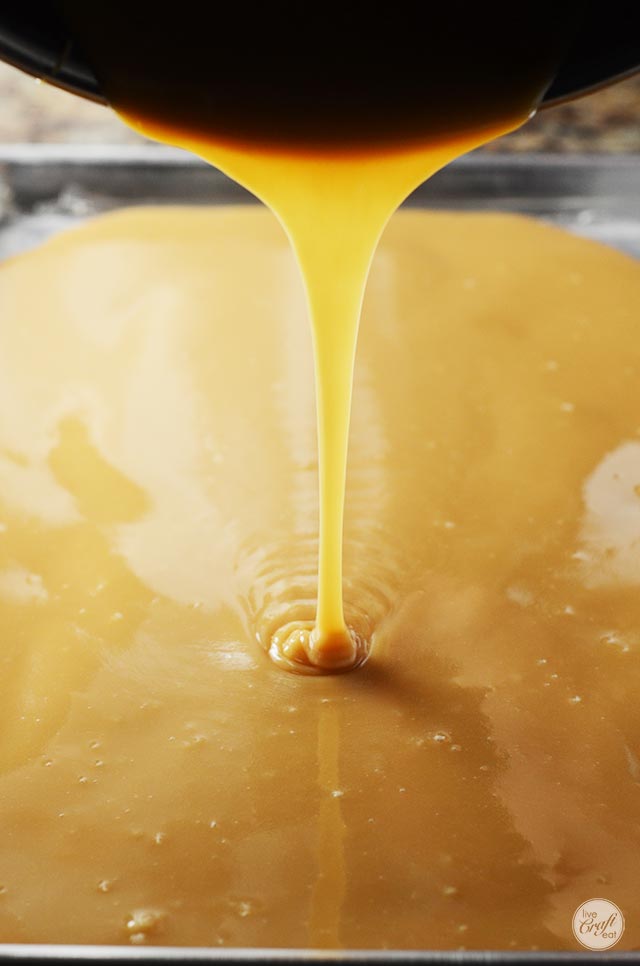 once it's cooled, you'll need to cut it into squares…or rectangles…this part is really up to you. whatever you make it what shape you'll end up with. i prefer smallish squares, about 3/4″ x 3/4″ but you could do larger or smaller depending on what you're going for.
also, i ended up stacking 2 squares on top of each other to make the caramel higher and not so flat. that's up to you too.
once you've got them cut and stacked how you want them, you'll want to smooth them out and shape them until they're just right. this is a smooth, soft caramel, so they're easy to work with. the heat from your hands will soften it just enough to make it moldable.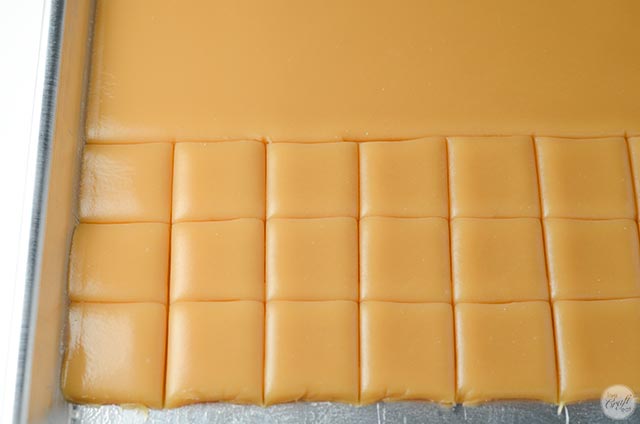 now it's time for chocolate! melt the chocolate wafers in the microwave in a microwave-safe bowl in 30-second increments until just melted…or even almost just melted. if there are a few lumps of chocolate left, that's great, just stir the chocolate and the heat of it will melt the rest of those lumps giving you a super smooth, silky consistency.
when you're all ready, toss a caramel into the melted chocolate top side down.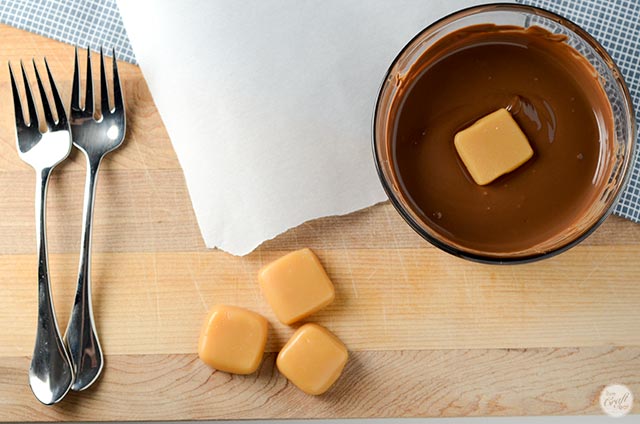 flip it over using 2 forks and let the excess chocolate drip, using the other fork to help you get some of that excess off the bottom.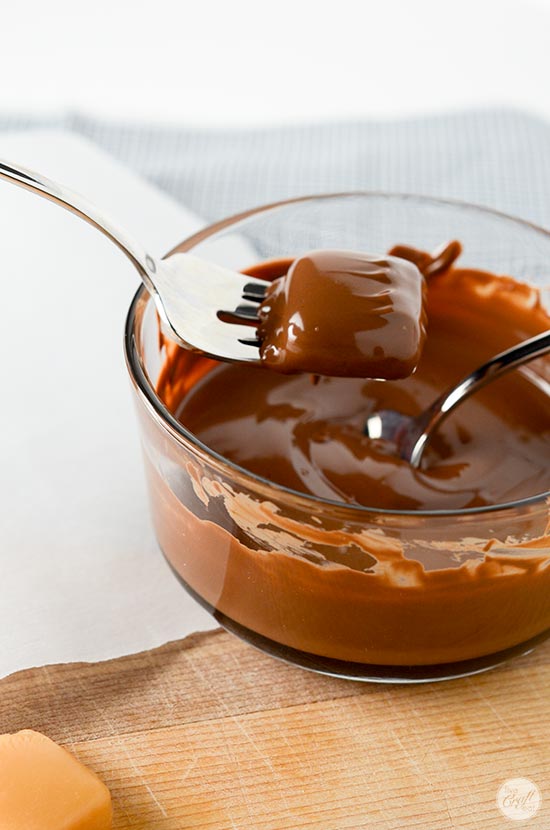 you can also use the excess chocolate on the second fork to drizzle a design on the caramel. you can see in the picture below that i just did a simple like down the middle, but you could do a swirl, or a zig zag or whatever you want.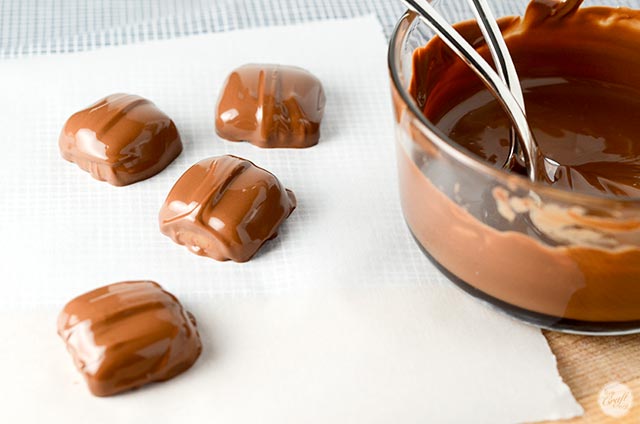 now is the time to dress them up, if you'd like! they are so so good just covered in chocolate, but the toppings make them extra pretty. you'll need to let the chocolate set up slightly before adding any adornments. if it's still too liquid any toppings you put on will slide off the side, but if it's too set then nothing will stick to it at all.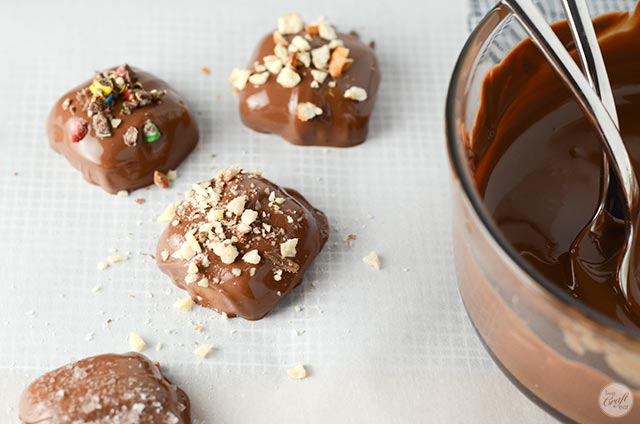 oh, and look how yummy they look! i could go for one of these right about now. if you made them small enough you could just pop one in your mouth, or you can take a bite out of it which would result in a nice pull of caramel because it is so soft. oh my gosh. perfection.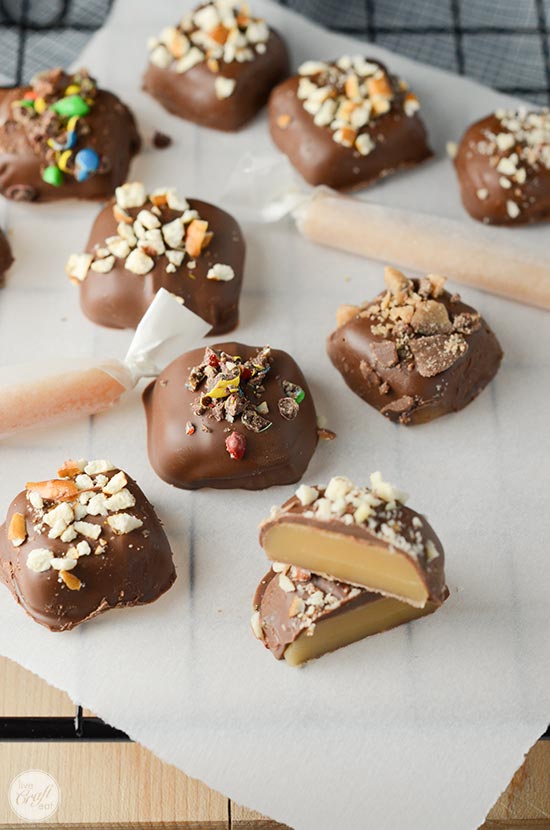 these are great just for having around during the holidays or are also perfect for neighbor gifts, teacher presents, etc.
i'm just going to make a whole bunch of these and put them in a big christmas tin. i know my kids will eventually find out what's in there and then i can guarantee they won't be there for long!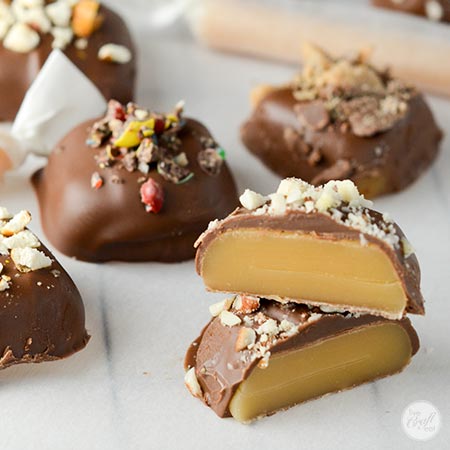 coming up :: homemade turtles using this same homemade caramel! do yourself a favor and just make a few batches of the caramel. with all these ideas of things you can make you won't regret it!