ok, this one is my absolute favorite out of all the caramel recipes i've posted. did i say that about any of the others? the chocolate caramel pretzel rods? or maybe the chocolate covered caramels? well, i really mean it this time. when you bite into these little nuggets of deliciousness you get a little bit of a caramel string because it is so soft + the nuttiness from the pecans + the sweetness of the chocolate. there is good reason chocolate turtles are so popular!
i can remember as a kid my parents would buy boxes and boxes of chocolate turtles to have around the holidays. we also gave boxes of them out as gifts to neighbors and friends. but then they got to be so expensive! or maybe it's just me being an adult now and realizing how much things actually cost? either way, this homemade version is much better than the boxes we used to buy, imo. though i'd still eat 'em from the box if i had some….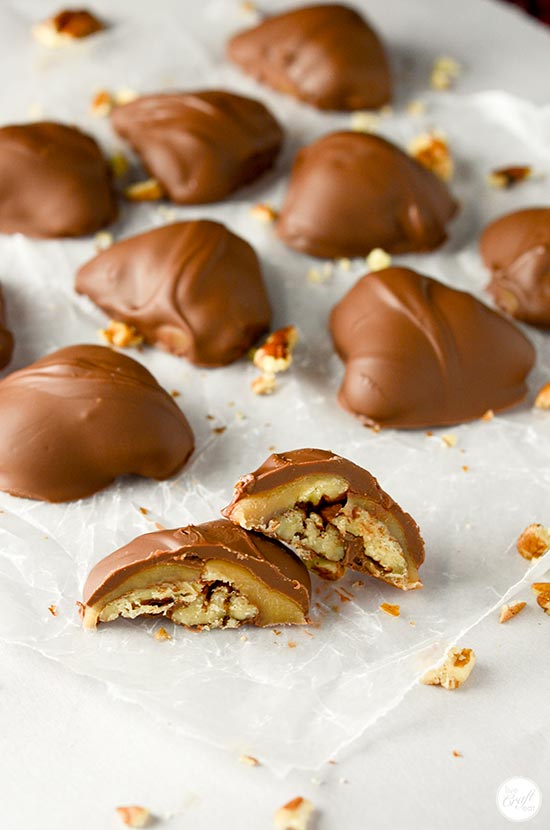 these homemade turtles really couldn't be easier to make. aside from the chocolate (obvi), you'll need whole pecans (they're cheapest at costco) and some homemade caramel. three ingredients, that's it! though you will have to make the homemade caramel…but that's only 4 ingredients in itself! so between making the caramel + the pecans and chocolate, that's only a total of 7 easy peasy ingredients. so let's walk through how to make these delicious homemade turtles!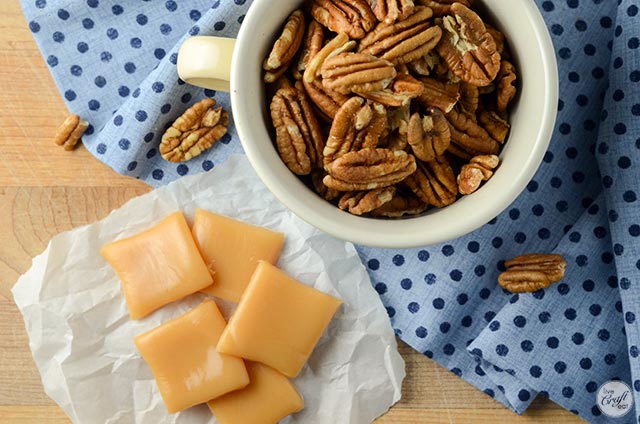 so go ahead and make the caramel. i'll wait for ya.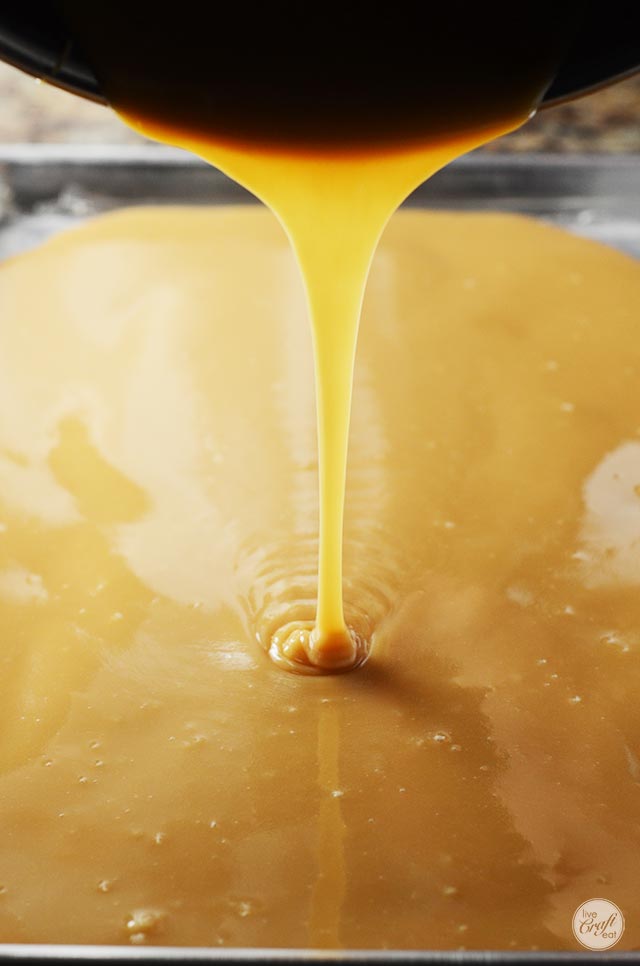 once it's cooled you'll need to cut it into squares. around 1 – 1.5″ squared; one square per turtle. you'll end up with an entire baking sheet of caramel which equates to a lot of turtles! which is exactly what you want.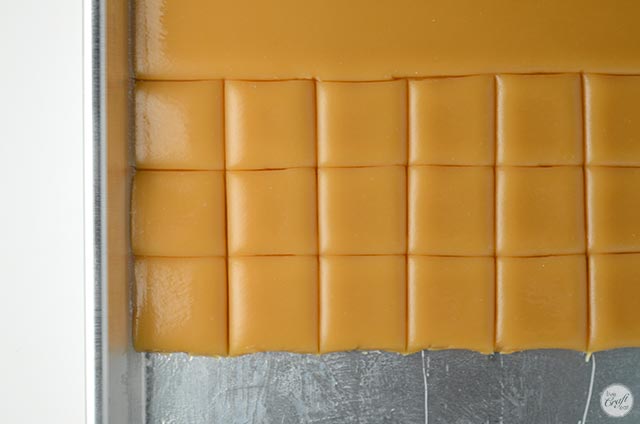 next, get 3 whole pecans (unbroken) and place them on the bottom side of the caramel.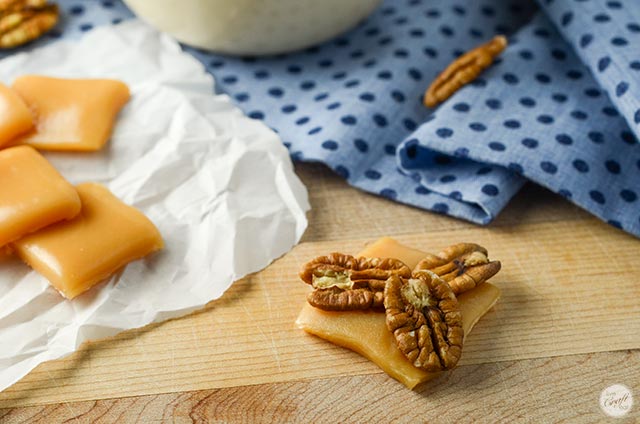 flip it over and use your fingers to mold the caramel around the pecans so it looks kind of like a triangle.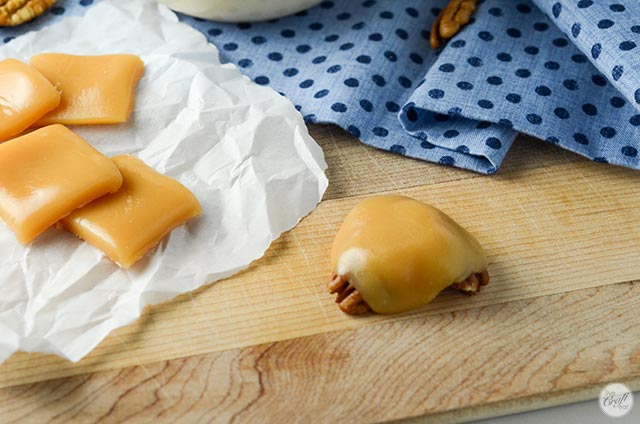 we're almost there! now it's time to melt the milk chocolate wafers (aff link) in 30-second intervals in the microwave. make sure you use a microwave-safe glass bowl (aff link). melt it until it is almost completely melted. if you're at the point where there are just a few small lumps of chocolate left in the bowl just stir it and the rest of the warm chocolate will melt it and you will have a perfectly smooth consistency.
use two forks to dip in the caramel/pecans turtles top side down. flip it over and let the excess chocolate drip off, using the second fork to help you get extra chocolate off the bottom. gently place each chocolate-covered turtle on a sheet of waxed paper to cool.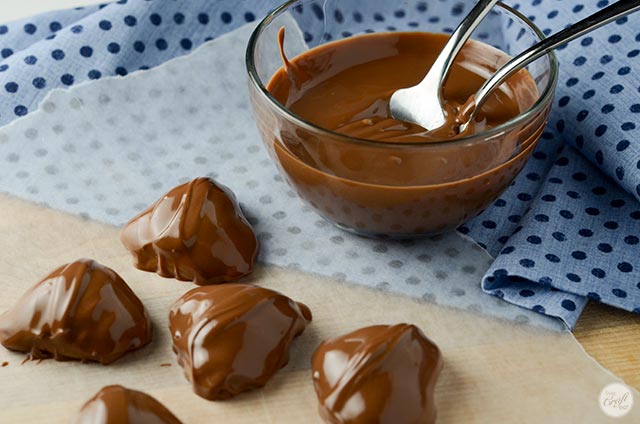 once they are cooled and the chocolate is set they are ready to eat! i mean…share! and eat. you'll have plenty to go around, so everyone can enjoy!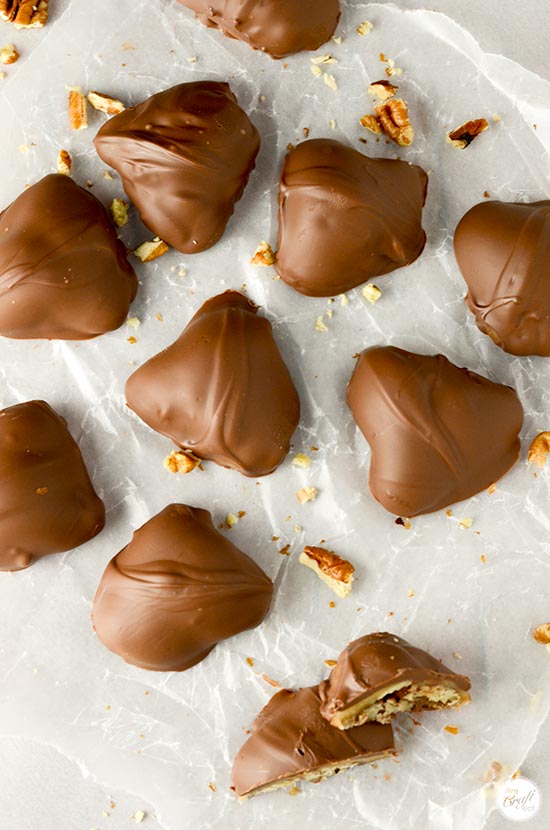 go ahead and take a bite. delicious, right?! i'm pretty sure these will be on your christmas list of treats to make every year from now on. you're welcome 🙂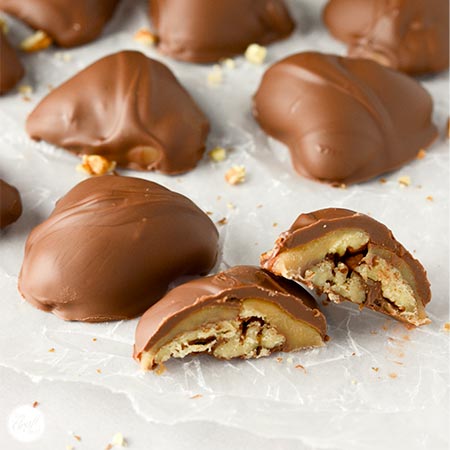 merry christmas everyone! enjoy this homemade classic christmas treat!