ah, i love this time of year! we've gone from the warm, savory food of thanksgiving and are now transitioning to my absolute favorite: the sweet treats of christmas! good thing it's going to be cold and snowy outside because i may need to wear baggy sweaters until the healthy eating starts up again in january!
i'm going to be posting a few of our favorite things to make with the homemade caramel recipe we posted about last year. it's more of a chewy caramel, not a caramel sauce, so it holds up well and makes some really great treats, starting with these chocolate and caramel dipped pretzel rods. (and these amazing homemade chocolate covered caramels and homemade chocolate turtles!) this is a favorite to not only have around the house for ourselves during the holidays but to give to neighbors as neighbor gifts, teachers, etc.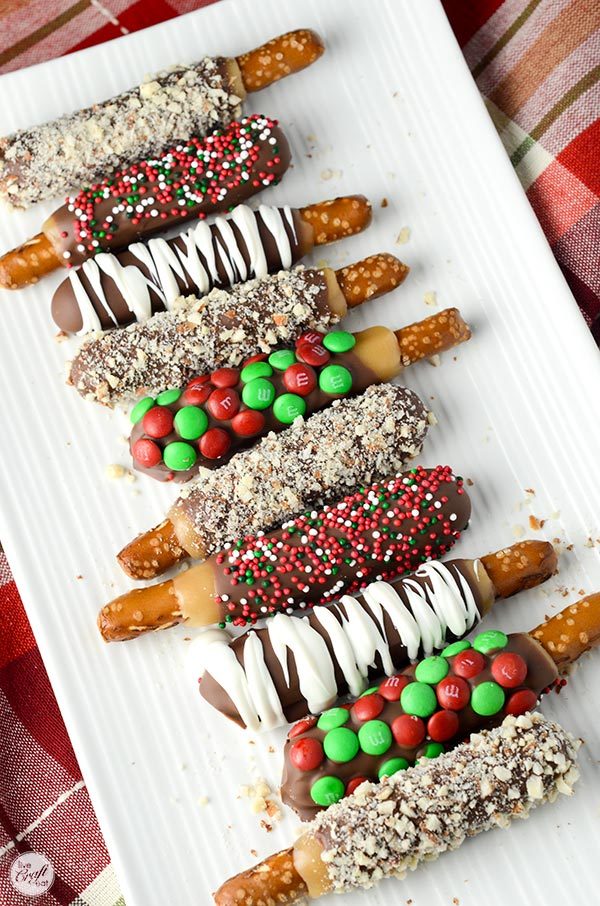 and it's really simple to make! there are 4 ingredients in all: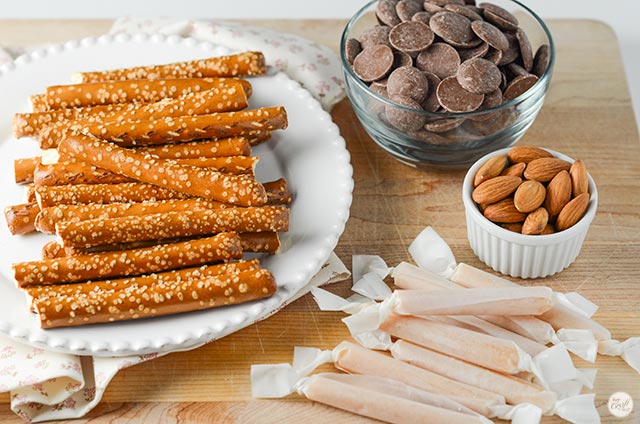 ready to learn how to make these delicious chocolate and caramel pretzel rods? ok, so go ahead and make that caramel recipe now. just look at it…mmm. i can't wait! just let it cool for about 1/2 an hour and it will be ready to go!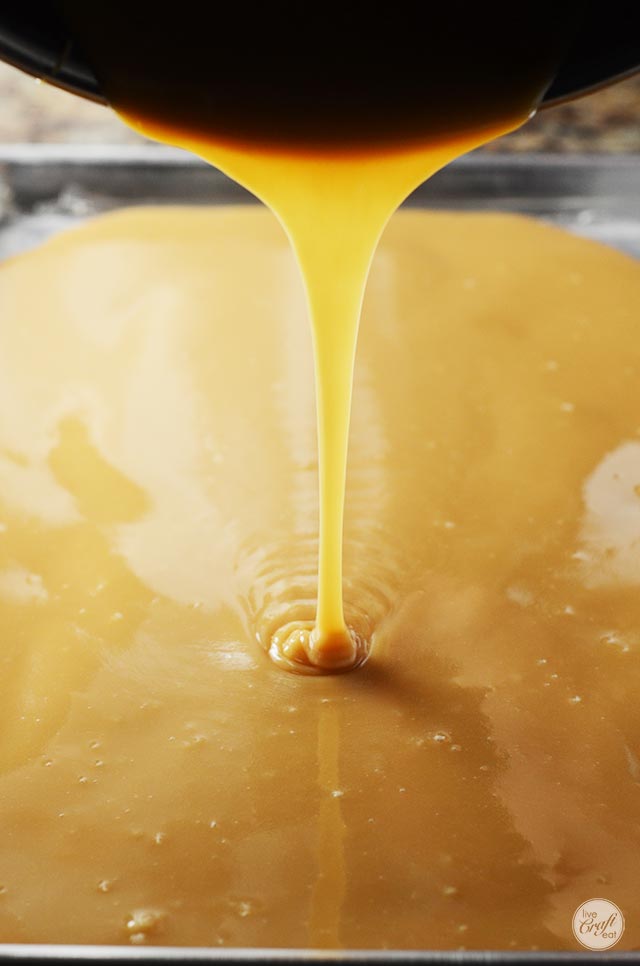 once the caramel has cooled down, you'll need to cut rectangles out of it to cover the pretzel rods. you want to cut them so they're about 1/2 the length of your cut pretzels rods (or in other words, 1/4 of the length of a full, un-cut pretzel rod). as you wrap the caramel around the rods it will get slightly thinner and therefore spread out a little bit, so keep that in mind as you're cutting them out for both length and width. it takes a little practice, so cut 1 or 2 to begin with and adjust from there. i cut mine about 3/4″ x 1.5″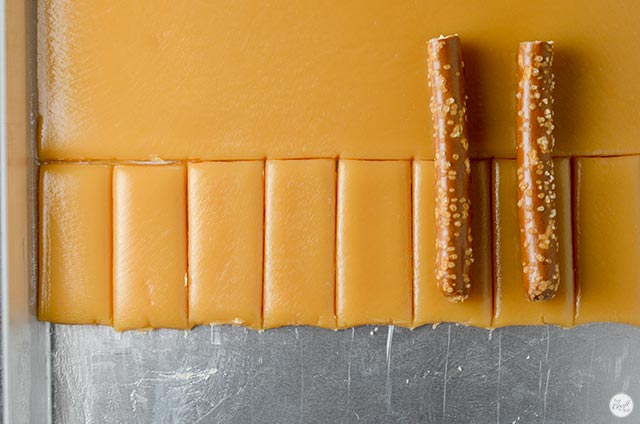 now all you need to do is get it on a pretzel rod, making sure the go slightly higher than that cut, jaggety edge….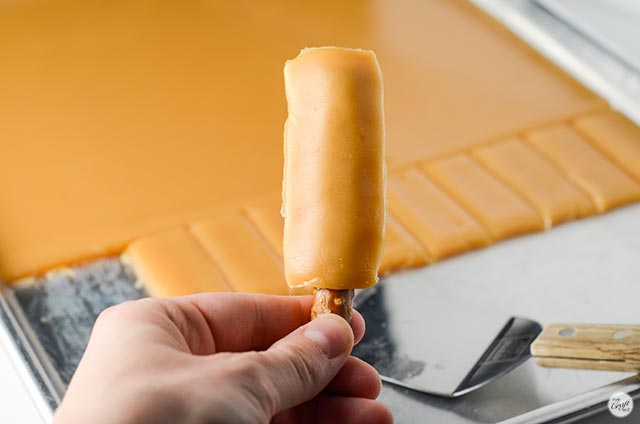 …and wrap it around, smoothing it, and sealing the sides together. you'll also seal it at the top, too. see! no cut pretzel rod edges to be seen anywhere!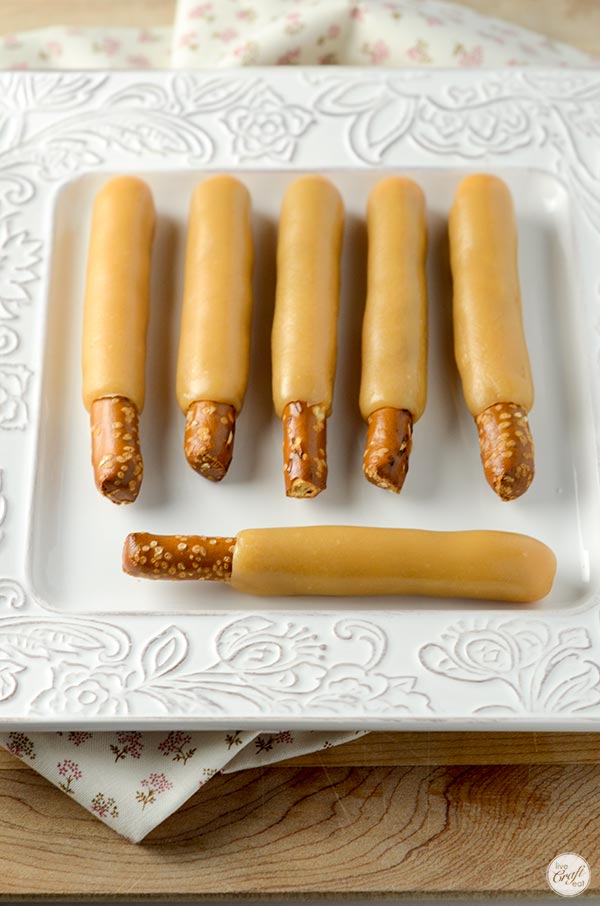 now to melt your chocolate wafers. i melted mine in the microwave in a big ol' bowl in 30-second increments until the wafers were almost totally melted. then i kept stirring until the chocolate was completely melted – the warmth of the already melted chocolate melted it the rest of the way. then i used a funnel to get it into a tall glass jar. you want something tall enough and with enough chocolate to completely cover the caramel portion of your pretzel rod when you dip it.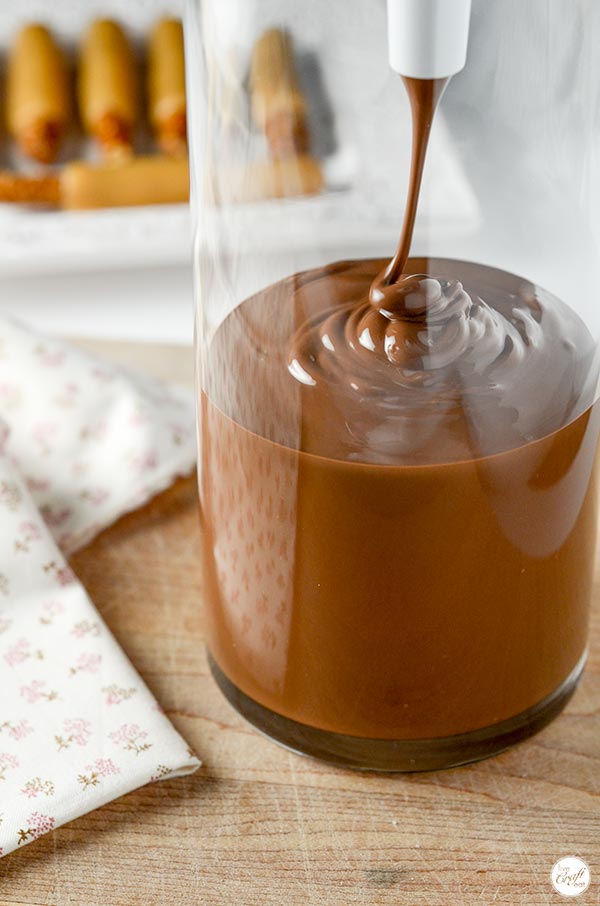 now it's time to dip the pretzel rods in the chocolate. hold it for a few seconds to let all the excess chocolate drip off before placing it on a piece of parchment or waxed paper.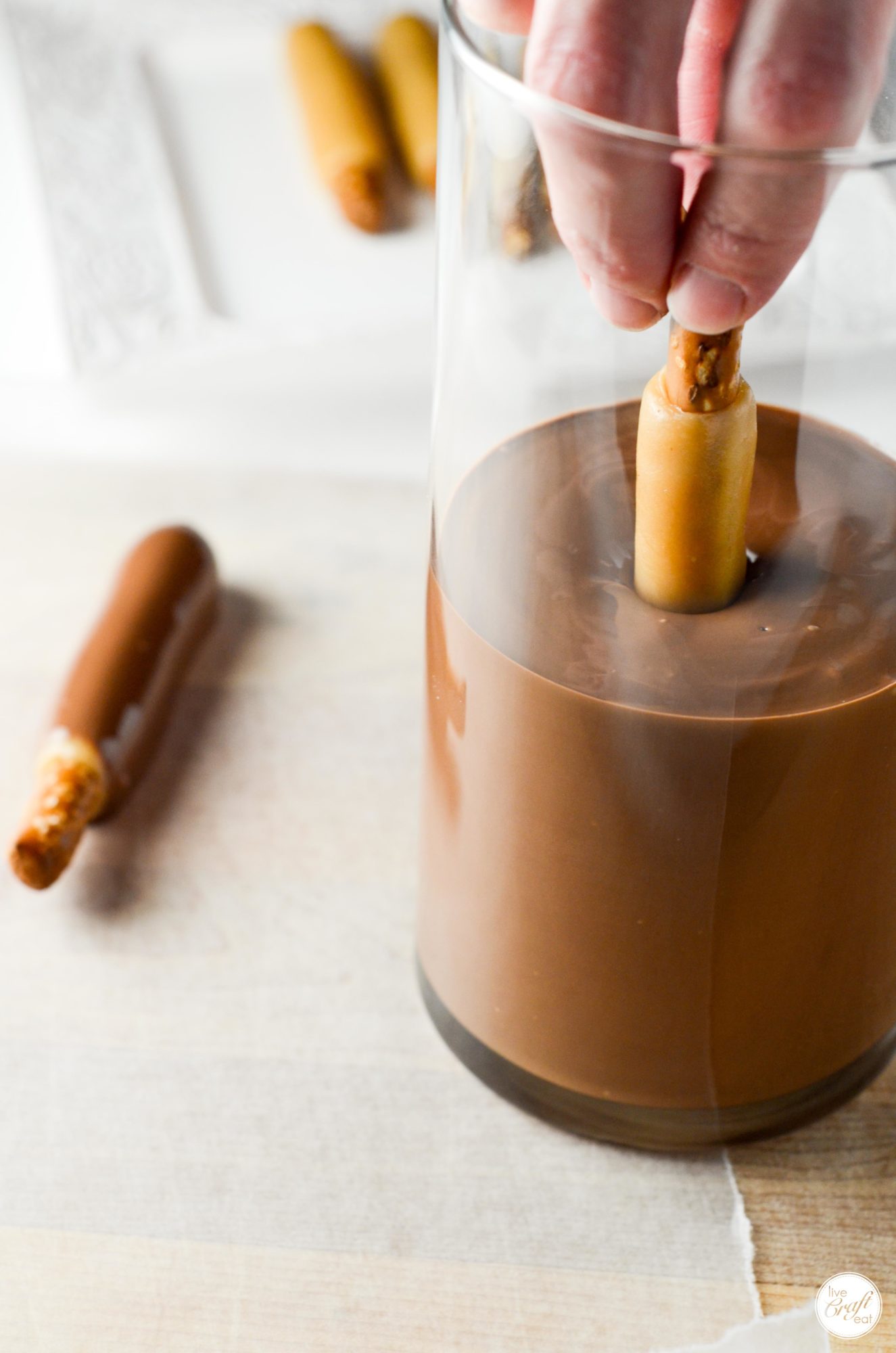 at this point, it's time to adorn these with all those goodies we discussed earlier! you want the chocolate to be semi-set. if it's still too liquid whatever you sprinkle on top will slide down the sides; if the chocolate is too set then nothing will stick to it. i mean, either way i'd still eat it, but for presentation purposes, you know….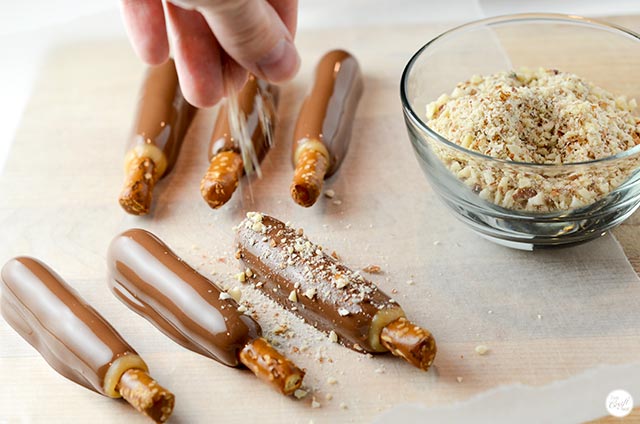 my favorite really is the finely chopped almonds, but the other ones are so festive and pretty looking + i know my kids would go for those ones first! no doubt about it.
i tried to get a picture of how gooey the caramel is when you bit into it, but they were gone before i knew it. so you'll just have to take my word for it that the caramel is deliciously soft and smooth and between that, the chocolate, and the salty pretzel, i mean, this is just heaven. you will want to make a lot of these.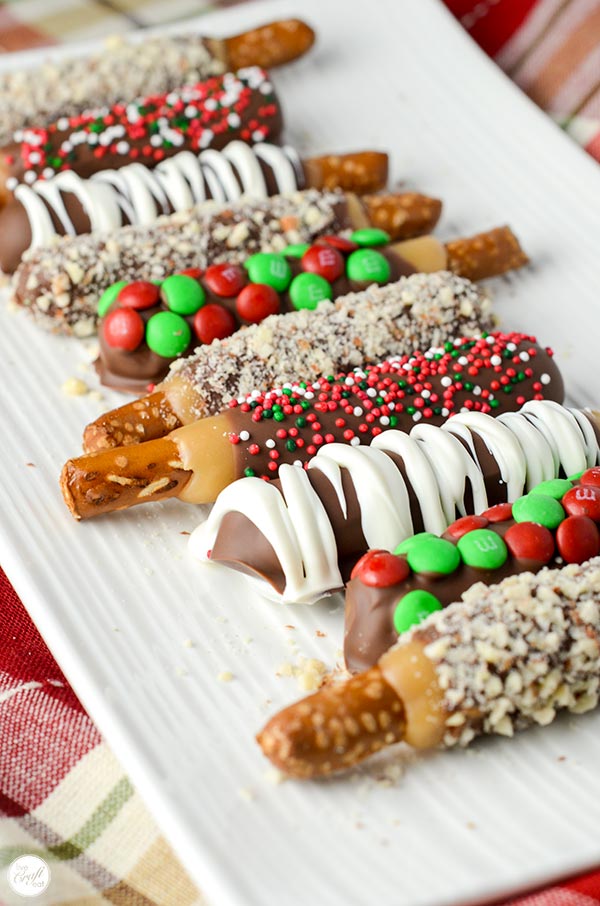 stay tuned for our next post involving this amazing caramel…chocolate-covered caramels!