A brand new year is one of my favorite opportunities to reflect on the past and evaluate where I am in life, what I want to accomplish, and how I can improve. Of course, there are many such opportunities: a new day/week/month/quarter, moving to a new house, starting a new job, the beginning of a school year, etc. but a new calendar year just seems to be the best excuse to take a deep look into your life and see what improvements are necessary.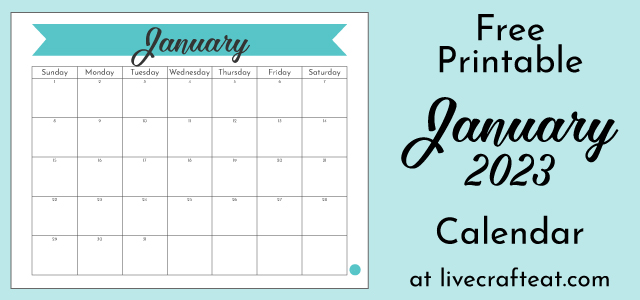 I think it's safe to say that many of us hope to be more organized this coming year. Here are some of the free printable resources I'll be using to do just that!:
Free Printable Calendars (a whole bunch of design options here!)
Free Printable Hourly Planners
Free Printable Weekly Planners
Free Printable Two Week Planners
Free Printable Weekly To Do Lists
Free Printable Monthly To Do Lists
And I would assume many people, especially this year, are looking to save money and/or get out of debt, or to become more fiscally responsible with their own spending habits. Here are several free printables to help you with those goals as well:
Free Printable Savings Trackers
Free Printable Expense Trackers
Free Printable Monthly Budget Planners
Free Printable Monthly Bill Organizers
Printing off a January 2023 calendar is a great place to begin the year whether you plan to use it to organize your schedule, your meal planning, track your spending, or for many other various purposes. Simply clicking on the link below this January calendar (to download the free PDF file), I'd say you're 2023 is off to a great start!