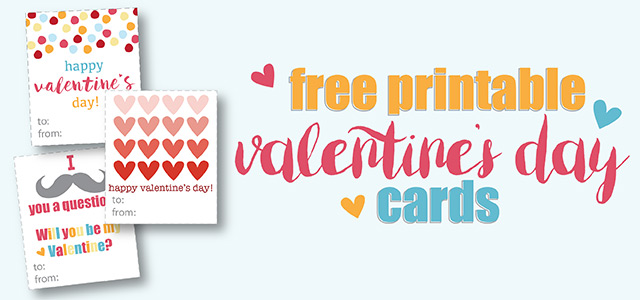 it's almost that time of year again – the time when all the kids at school get to decorate their own bags or boxes to collect cute valentine's day cards, trinket toys, and treats from their friends! christmas just finished (even though it seriously seems like forever ago now), and i finally feel like life is slowing down a bit and getting back to some kind of normal. and that's probably why valentine's day always sneaks up on me…i think there's supposed to be some sort of big break between christmas/new years and the next big holiday. but in reality, christmas and valentine's day are pretty close together. so i'm already trying to wrap my head around the fact that it is happening soon, and i'm going to be ready for it this year! no more last minute trips to the store to pick through what's left of the candy and pre-made cards!
this year i've made these cute little valentine's day cards that we can just print and cut. i'm all about keeping it simple. and because the cards are free to download it's a lot less expensive than buying them at the store! and let's admit it – we all could use a break from all that holiday spending we just did!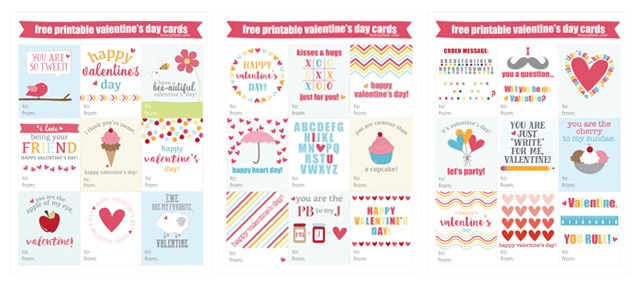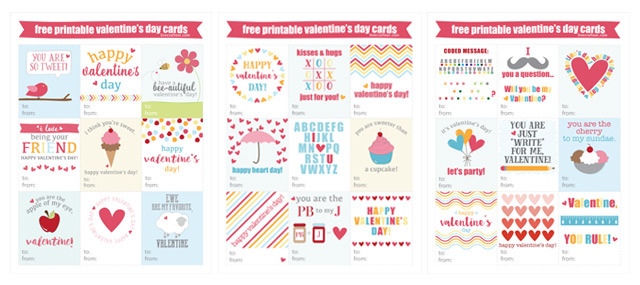 if you want, you can get some foil-wrapped chocolate hearts or other small toy or individually-wrapped treat to tape onto the back of the cards, though some of the cards prompt you with other ideas such as hershey's hugs and kisses (x's and o's), pencils, rulers, and even fake mustaches (aff link) – so fun! otherwise, the rest of the cards are pretty generic and could go with anything you wanted to hand out. they are all also just cute and fun to hand out on their own!
as you can see in the image above, there are 3 separate sheets, each with 9 valentines. so 27 total. the size of each card once you cut them out are approximately 2.5″x3″. they're big enough to tape something on the back, or small enough to punch a small hole in the corner and attach to something.
all you need to do is download the cards here (1 pdf file), print onto cardstock (aff link), and then let your kids cut on the straight lines and write their names and their friends names. it's as easy and as uncomplicated as that!
if you like these cards, i would LOVE it if you shared this post on facebook and pinterest so people can come and download the files themselves!! i'd love to keep creating free printable valentine's day cards and see people use them!
if you're interested in a couple more valentine's day ideas and printables, < click here to see what else i've got!
happy valentine's day to all!!