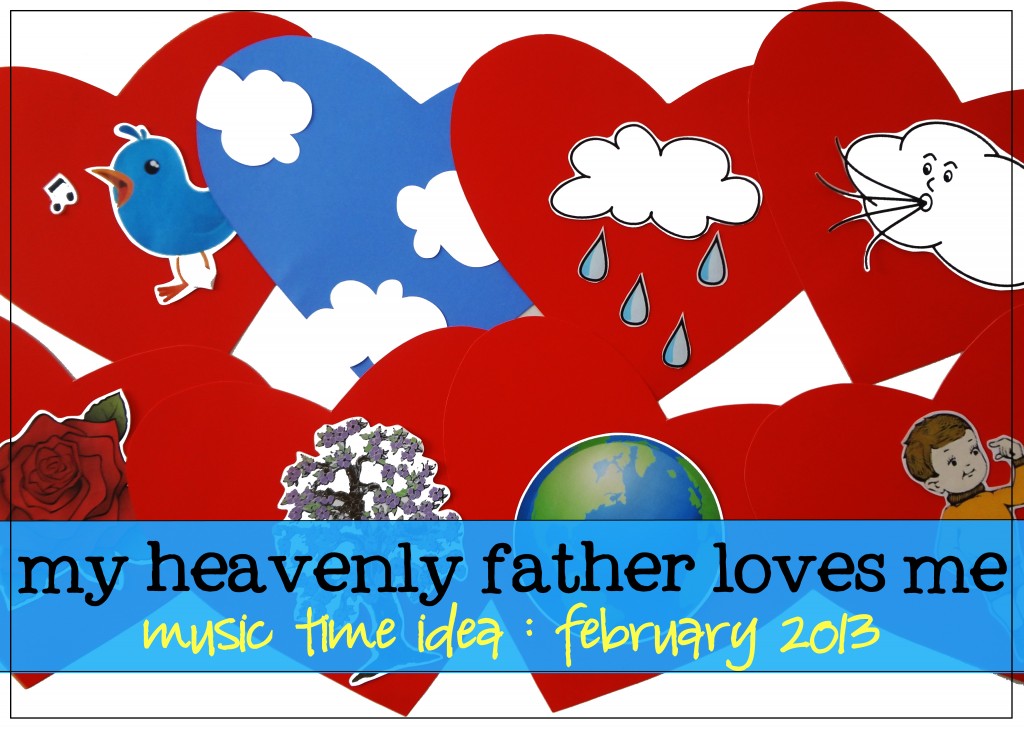 when i saw that february's song-of-the-month for primary was "my heavenly father loves me" i couldn't help but think how appropriate it was for this exact month, considering valentine's day and all.
when you think about kids making heart-shaped valentine's with heart-felt messages for their friends and family to show them how much they love them, isn't it kind of like heavenly father giving us things to show us that he loves us? this song talks about all the things heavenly father has given us in this world to remind us of him and how much he loves and cares for us and wants us to be happy. and so when i list off all these things in the song, i consider each one to be like a "valentine" from him – something he's given us so that we can know that we are loved.
so to teach this song in music time, i made a "valentine" (a heart cut out of red [or blue in one case!] poster board) for each thing listed in the song. then i went online to try and find free graphics to fit the item. it took a little bit of time, but i was able to find what i was looking for! here's a site that i used – it has lots of free graphics you can choose from.
first, i introduced each heart and the words for that line, and then had them repeat it a few times. then i had 8 kids come up to the front and arrange themselves in order (everyone helping to get the order right, of course). then we said the words to the first verse one more time through for good measure, and sang the song. they did great! key words are fabulous in helping them remember the words to songs.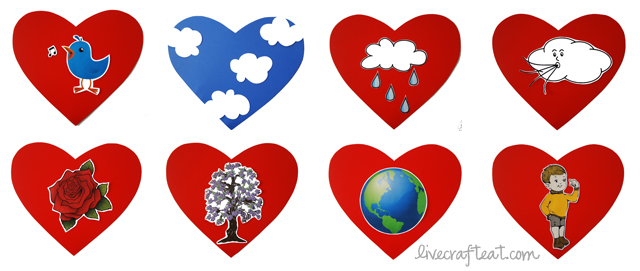 by the way, if you then sing it with bubblegum ben, you'll be surprised at how well they actually do to catch on! wow. as soon as i pulled him out, they were singing SO loud – and with all the right words!!
now on to find some graphics for verse 2 next week….
*UPDATE* as mentioned above, the graphics i used came from this site, but if you'd like to use the same ones i used, you can download them HERE. (p.s. the graphics are only for the first verse.) (p.p.s. for the blue heart, you just need to cut out clouds from white paper, so there's no graphic for that one.)