it's that time of year again, and i am so excited!! i'm referring to my church's semi-annual general conference, of course, where we spend several hours over the course of the weekend listening to the general authorities. i love the traditions we have in our family, like making this delicious cinnamon french toast for breakfast, putting small candies in bowls with specific words attached to each one for my kids to listen for, finding all the words in these word searches and then finding some more. and then some more! and coloring lots of lds-themed coloring pages in our dry-erase binders. add in some homemade caramel popcorn or m&m popcorn for a special treat, and it becomes the best kind of weekend, imo.
the part of general conference i'm looking forward to the most, though, are the messages that we get to hear from our prophet and apostles. i have always left conference feeling uplifted and inspired to do better.
i will say that it can be very hard to listen to these messages with young kids around, so a couple of years ago we started to compile a list of activities for kids from talented lds people all over the internet. we've updated it every conference because there are always more ideas and resources that we find. and all of them that we've listed are free (thank you, lds bloggers!), so that makes it even better.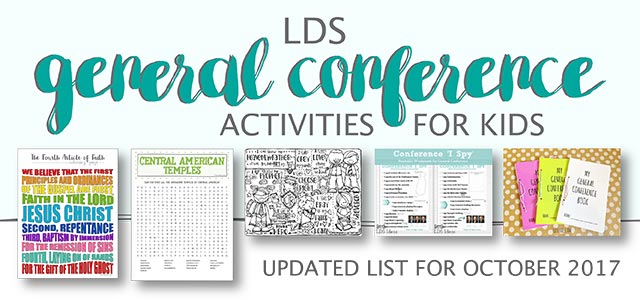 we've added a few things of our own making to this list for this upcoming conference, so be sure to not only check out the entire list on our post titled, "Activities, Games, and Ideas For General Conference With Kids – The Ultimate Guide", but to also look at…
FREE PRINTABLE LDS TEMPLES WORD SEARCHES
FREE PRINTABLE TEMPLES AROUND THE WORLD WORD SEARCHES
FREE PRINTABLE 13 ARTICLES OF FAITH WORD ART COLORING PAGES
happy general conference weekend, everyone! we hope you find the answers to your questions, and feel uplifted and inspired!!