a few months ago, before the april general conference, i posted a set of 3 lds word searches for kids. they included topics such as latter-day prophets, books in the book of mormon, and the articles of faith. i made these because my oldest was getting into word searches and i couldn't find very many lds-themed ones. so i made my own, and i shared them with you!
since then, i've made a few more…4, to be exact. so now there are 7 lds word searches that are sure to keep both my kids and yours busy for at least a little while during general conference, or sacrament meeting, or whenever!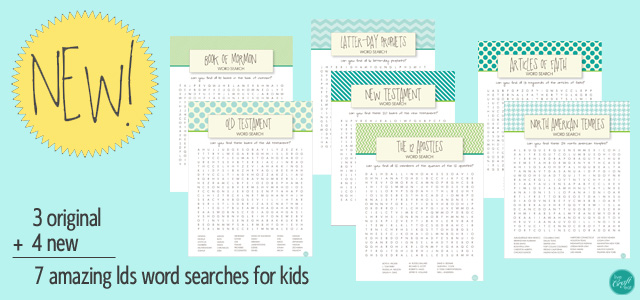 the new themes are old testament, new testament, north american temples, and the 12 apostles – and i think the latter will be fun to do during general conference because of the fact that they'll actually get to see them speak!
so if you're looking for a few extra things to add to your kids dry-erase activity book to keep them entertained, whether for general conference or sacrament meeting, click on the link below to go to the post where you can download all 7 of these lds word searches for free! and don't forget to share with your friends and neighbors (via facebook, pinterest, google+, or wherever!) to help share these fun activities!
* LDS WORD SEARCHES FOR KIDS *
happy general conference weekend!!