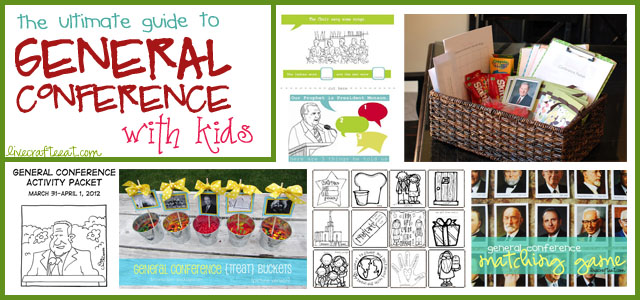 Get comfortable because this is the most extensive list of resources and ideas for conference activities for kids out there. (A lot of these can be used for family home evenings as well.)
I've pinned as much of this stuff as possible on my General Conference Pinterest board.
Please email me at livecrafteat at gmail dot com or leave a comment for anything that I've missed and I'll add it to the list. I'll be updating this every 6 months to keep it as current and robust as possible.
I love General Conference. Each year I really do look forward to the first weekend of April and October respectively to hear the leaders of the LDS church speak. I also love kids. But in all honesty sometimes the combination of these two things makes both miserable. How to entertain kids for 8 hours (not counting 2 hours while my husband is at the Priesthood session) during general conference is no small order. And I only have 2! For some it's double or triple the work.  With this in mind I wanted to create the ultimate resource list of General Conference activities for kids.
I've split it into six sections:
Resources: These are the best online resource sites for conference activities out there. These include posts similar to this one as well as sites dedicated only to entertaining kids during Conference.
Games/Activity Ideas: A list of game and activity ideas for children including links to pictures and tutorials.
Booklets and Packets: Browse through this list of the General Conference activity packets and booklets found across the internet.
Baskets and Kits: Browse through this list of the General Conference baskets and kits.
General Conference Notebooks
General Conference  Pinterest Boards
***Updated March 27, 2018***
Don't miss these three from here on Live Craft Eat:
Best Resources – In No Particular Order
Official Resource from the LDS Church
This is the Church's official resource. It includes on and offline matching games, coloring templates, and even a conference bingo game ("Conference Squares") for kids to mark off as they hear speakers mention certain Gospel topics or people. In addition to this, I would highly recommend the Church's article on Preparing Our Children for General Conference – there are some good ideas and thoughts written there.
This is About.com's section of General Conference children's activities. They actually have a LONG LIST of printables and activities for the kids to play during General Conference. These games include bingo, flash cards, word searches and much more.
LDS Living Resource List (and here!)
LDS Living has a post from earlier this year that features some creative kids' activities for Conference from other bloggers in the Mormon blogosphere.
Mormon Share has a nice list of games and activities that include quizzes, coloring sheets with fact sheets and much more. *I've linked to their home page since they updated their site and the old link wasn't working. Their Conference Activities must be on there somewhere but I can't seem to find them!*
Michelle at A Little Tipsy has some very creative ideas including a bracelet and sundae based on what speakers say and even a temple memory game, and a compilation of "15 LDS General Conference Activities"
Emilie at A Year of FHE has a couple of great lists of 15 Conference activities for kids including kits & packets, a conference journal, bingo, coloring pages and printables.
A great list of resources including treat buckets, LDS Jenga, guessing games and more.
Sugar Doodle, of course, has a long list of General Conference Ideas – from Family Home Evening to Music Time Ideas and everywhere in between.
This site has various activities for General Conference including Crosswords, YW and Activity Day Ideas, and Workbooks.
A fun list of free printable games for General Conference.
a list of 32 games and printables for general conference – for the whole family!
List of Kids Activities and Games For General Conference
The list below includes games – word searches, bingo, coloring, matching, memory – , activities, educational hints and tips, counsel from authorities on general conference and everything in between.
General Conference Booklets & Packets For Kids
The Mormon Home – General Conference Photo Books
The Red Headed Hostess – General Conference Doodle Flip Book
LDS.org – Conference Notebook
Over the Big Moon – General Conference Packet for School-Age Kids
LDS Lane – General Conference mini books
Fluffy Bunny Feet Designs – General Conference Packets for Primary Kids
I Candy Handmade – a dry erase binder full of ideas
The Red Headed Hostess – Note-Taking Packet
Crystal Shares – Conference Pre-school age Journal
Sugardoodle – October 2012 Conference Packets, April 2012 Conference Packets, April 2011 Conference Packets, October 2011 Conference Packets, here, here, here, here, here, April 2014 Packet, October 2015 Packet
Deseret Book – My Conference Booklet
Latter-Day Chatter – General Conference Teaching Sheets & Binder/Packet Covers
Magnify = Simplify – General Conference Packet
Just One Mom Trying – Activity Packet for Nursery
Mormon Cartoonist – General Conference Activity Packet, October 2015 General Conference Activity Packet
Book of Mormon Discovery – Learn about President Monson Packet 
Confessions of a Slacker Mom – LDS Preschool Curriculum Activities
LDS Bookstore – 2013 General Conference Activity Packet
Prepared LDS Family – Activity Notebook for Primary Kids
Life's Journey to Perfection – General Conference Printable for Primary
The Personal Progress Helper – General Conference Value Project Notebook for YW
Five Little Chefs – Get to Know the LDS Apostles Conference Packet
Brightly Street – General Conference Speaker Packet
Life's Journey to Perfection – Before, During, & After General Conference Packet
LDS.org – Scripture Stories coloring and activity book
Somewhat Simple – Activity Packet for kids
General Conference Baskets & Kits For Kids
Snippets and Pretties – General Conference Kit
Somewhat Simple – General Conference Goody Crate
Gluesticks – General Conference Kits
YW Believe – General Conference Kit
A Bushel and a Peck – Come Hear a Prophet's Voice
Blue Skies Ahead – Don't Let One Minute of Conference Go To "Waste"
Creativity, Musings & Such – Activity Baskets
Johnson Family – Conference Basket Ideas
Inkablinka – General Conference Basket
We Love Being Moms – General Conference Basket for kids
Then We Made – YW General Conference Kit
General Conference Notebooks
A Lively Hope – General Conference Doodle Notebook
Cookie Nut Creations – notebook
Prepared Not Scared – binder cover
A Bushel and a Peck – Conference Journals
Latter-day Chatter – Conference Journal Notebook Cover
Live Craft Eat – dollar-store notebook re-done, make a cute journal/notebook from a cereal box, general conference activity board, matchbook notebooks
A Day in My Life – General Conference Journal
LDS Nest – Conference Journal Cards
LDS Lane – General Conference Doodle Notebook
Blog Lovin – Labels for Notebooks
Fab N Free – Printable note pages for General Conference
LDS.org – General Conference Notebook
Little LDS Ideas – General Conference Notes Sheets
Pinterest Boards With General Conference Activities
Let me know in the comments and at (info at livecrafteat dot com) what I've missed so I can add it! We appreciate all the talented people who make all these activities and ideas available for us to use!!