Six years ago (!!) I published a post on General Conference activities for kids. I did so because as much as I really, really look forward to General Conference every six months it often resulted in a more frustrating than pleasant experience as I tried to keep my kids occupied enough that I could actually listen to the speakers, get the answers I was seeking, and feel what the soul needs.  And wouldn't you know, that huge list of kids activities I compiled worked like a charm. I mean, it's still not perfect. They are kids after all. But having plenty of activities prepared in advance has made a world of difference in our home.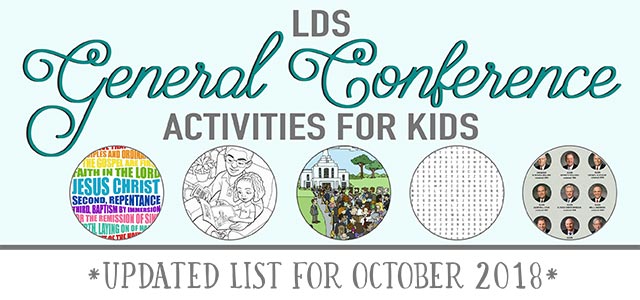 So, as has come our bi-annual tradition in our home, I've spent some time and found anything I could in terms of free resources and activities for kids and added it to the original post. I've also removed ones that are no longer working so that my original compilation stays helpful to all the Moms and Dads out there wanting to listen to General Conference in peace AND teach their children while doing so.
In addition to the General Conference activities make sure to check out these awesome free printable LDS resources your kids will love…
Happy Conference!