Why am I posting a free printable Thanksgiving Planner in March, you ask? Well, since we're all staying in our homes due to the Coronavirus Pandemic + I recently closed my Etsy shop, I decided to use this spare time to take all of the printables that used to be available in my Etsy shop and post them here on the blog for FREE!
And since we're all sitting around binge-watching Netflix anyway, maybe we should get a head start on planning all of the things that will come post COVID-19, right?! I mean, why not?! We'll just be that much ahead of the game.
So, I've been using this printable Thanksgiving planner for a few years now, and I have to tell you that it streamlines my Thanksgiving prep, makes the day so much less stressful, and I can actually enjoy the holiday with my family! It doesn't make all the work on the big day go away, but it does free my mind by putting all the to-dos down on paper. I'm not constantly worrying about forgetting one thing or another – I plan everything out and then I simply stick to the plan.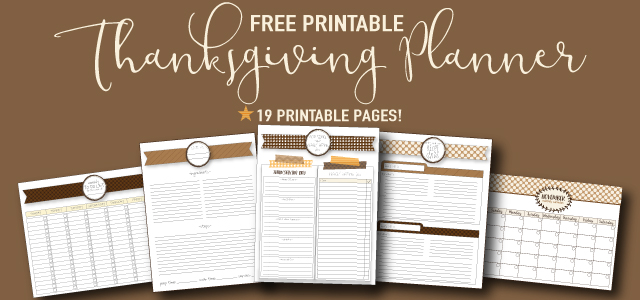 These Thanksgiving planner pages are 8.5″ x 11″, which is the standard size for printing on home printers. I like to put mine in a special Thanksgiving binder where I keep all our favorite Thanksgiving recipes, etc. It's so nice to have everything all in one place when you need it, and also for planning purposes – all the information (read: recipe ingredients) you need to plan things out is right there in front of you.
This planner comes with 3 different color options for a cover page (see image below), but feel free to use some fun fall-colored or autumn-themed scrapbooking paper at the front of a clear-view binder (aff link).
It also comes with three calendar pages for September, October, and November. These are evergreen calendars, meaning you can re-print them year after year and write in the current year's dates. Or, you could laminate them and use them as a dry-erase calendar if you don't want to re-print them every year.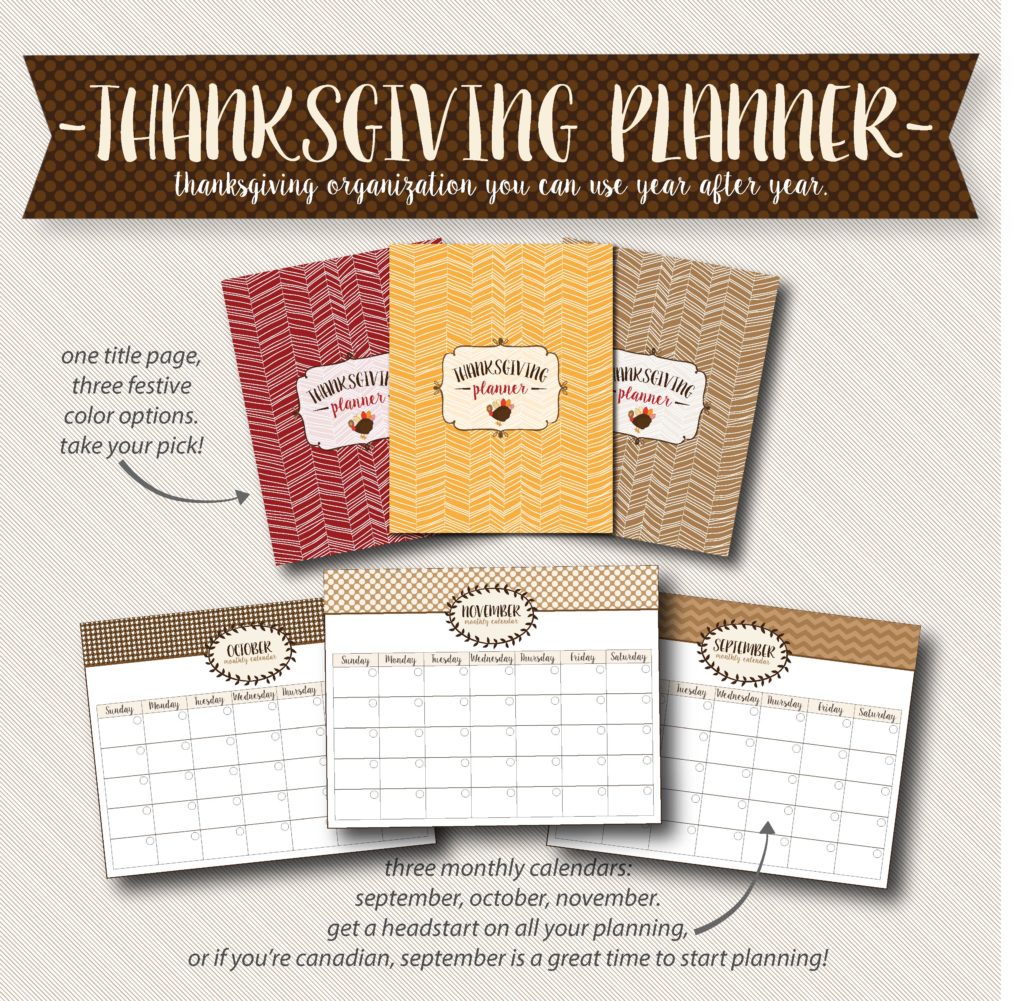 I love the recipes that Thanksgiving inspires – amazing homemade stuffing, fresh cranberry sauce, and cranberry apple crisp with vanilla ice cream are among our favorites! We keep all these recipes in a family cookbook, but I also like to use the printable recipe pages and/or recipe cards included in this Thanksgiving planner bundle to keep them easy to find when Thanksgiving rolls around.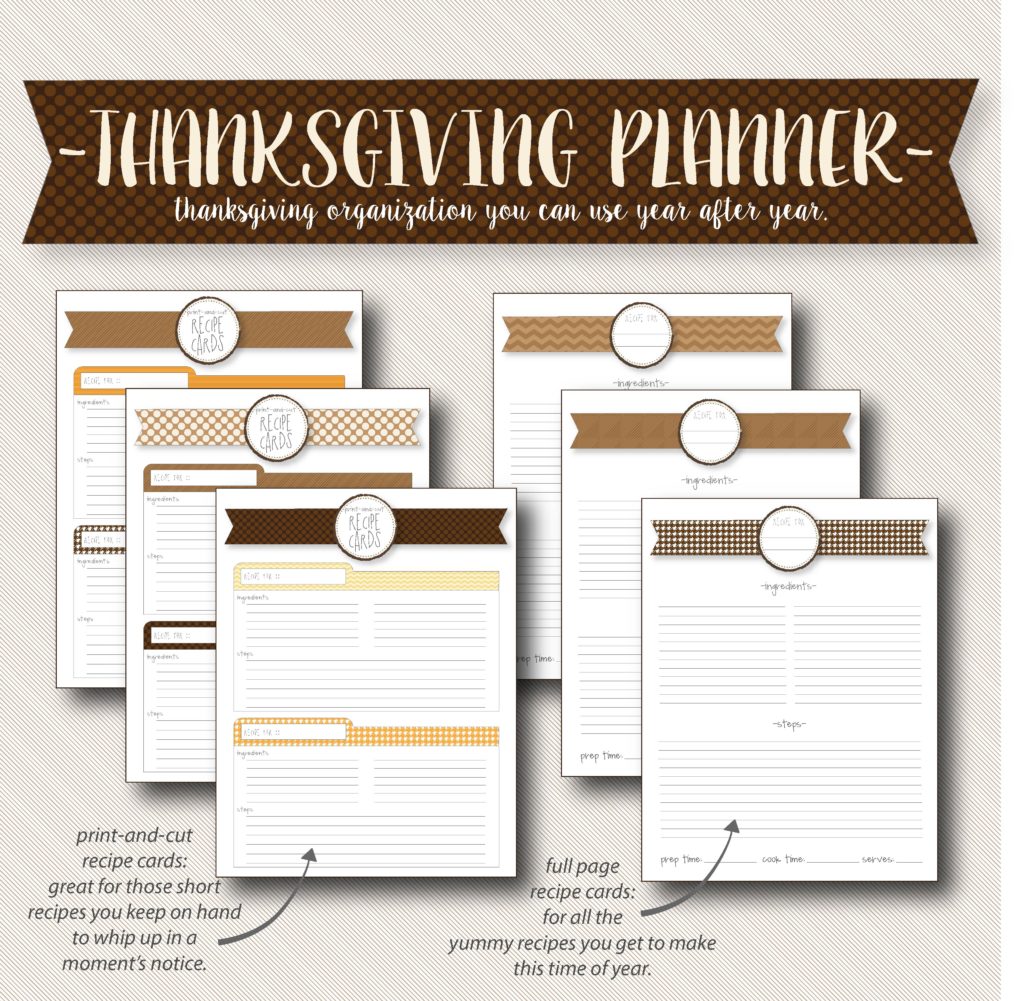 Next up in this freebie Thanksgiving bundle are a few pages that help in the prep stages: the menu planner & grocery shopping list, The "BIG" shopping list for everything else you need like decorations, napkins, etc, and the all-important Turkey Day schedule! This last one here will save your sanity on the big day – simply write what you need to do and when (put rolls in the oven, baste turkey, etc), then just follow through with the plan!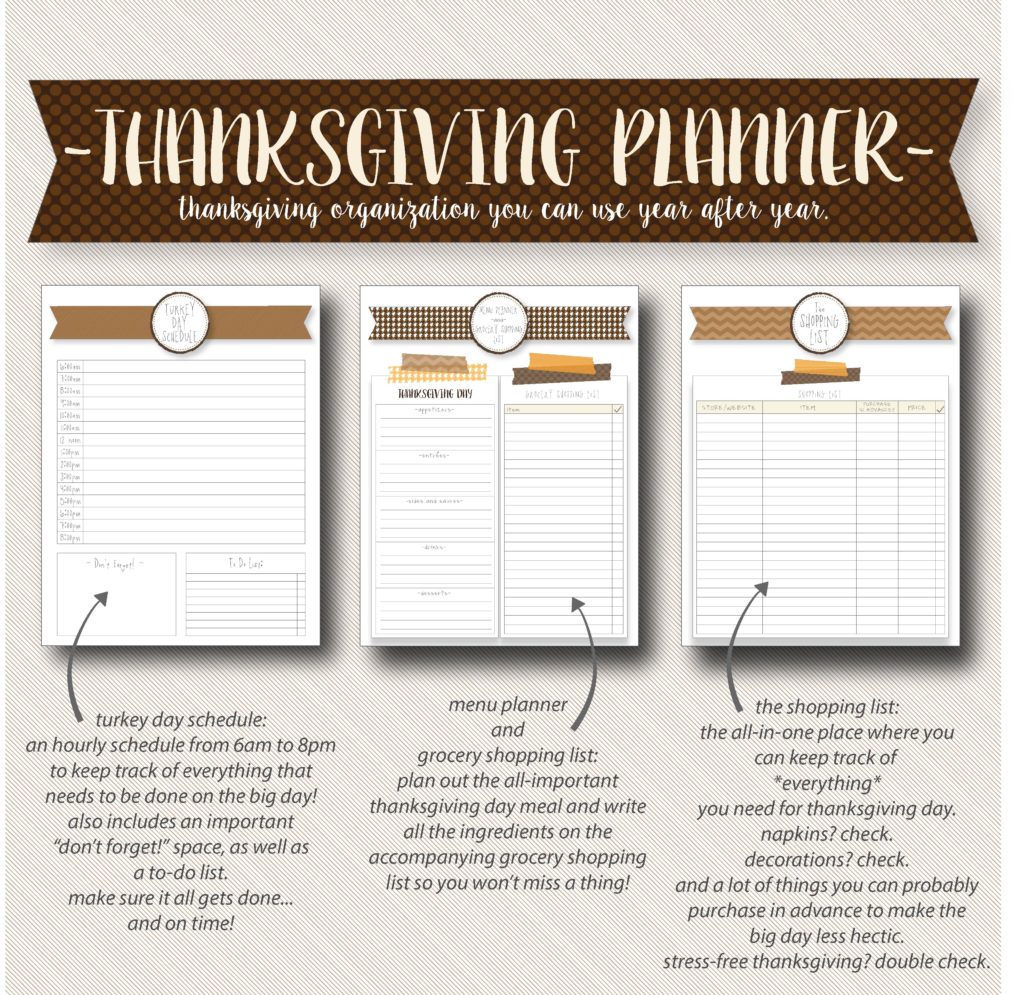 And then there's all the prep you need to do in advance…like more than a few days from Thanksgiving Day kind of advanced planning.
Just like you need to plan out Thanksgiving Day proper with an hour-by-hour to-do list, you also need to plan out your to-do list for the days leading up to Thanksgiving. Enter the evergreen weekly and daily to do lists, which again means that you can print them out as many times as you need whenever you need and simply fill in the dates.
There is also a guest list so you don't miss anyone! Keep all the info such as who's been invited, their number of guests, their RSVP, and their meal contribution.
And then, of course, is the budget tracker. Just because Thanksgiving is a special day full of abundant food and blessings doesn't mean it needs to break the bank. Make a budget plan and stick to it! Consider asking people to bring side dishes, or drinks, etc. If you plan well enough in advance you can see what things you need and if/when they go on sale and buy at a better price. There are lots of ways to cut costs at Thanksgiving time, but the most important things is to make a budget and stick to the budget.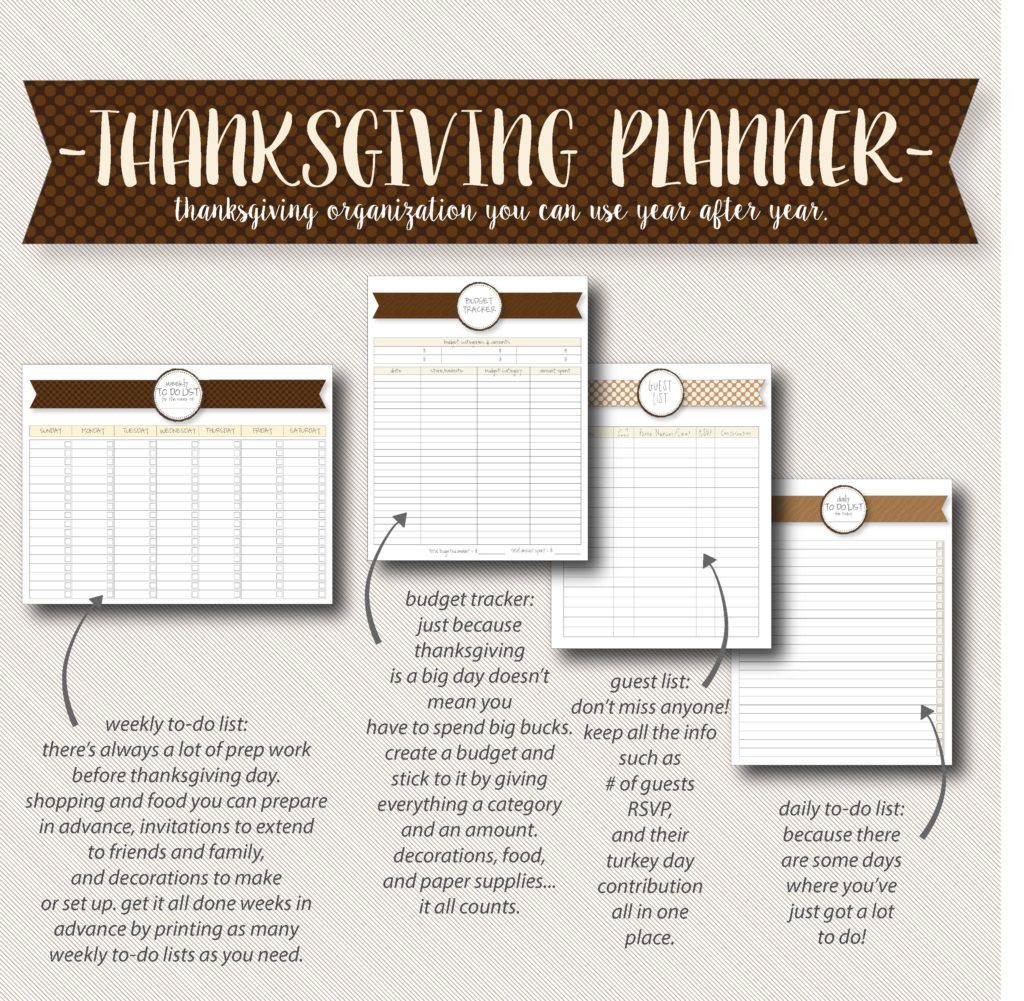 Well, I guess that's all you need to plan the perfect and most relaxing Thanksgiving!
And if you've got little ones coming, make sure you check out these fun Thanksgiving crafts!:
Pinecone Turkey Crafts using silk feathers, felt, and paint: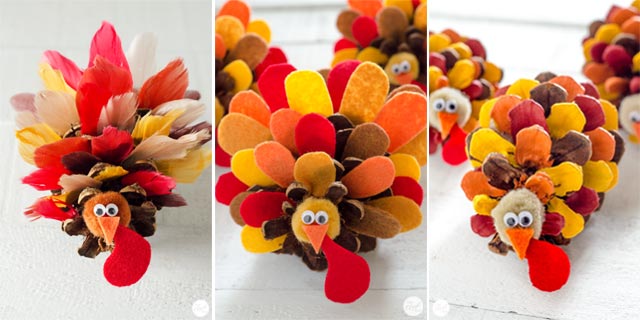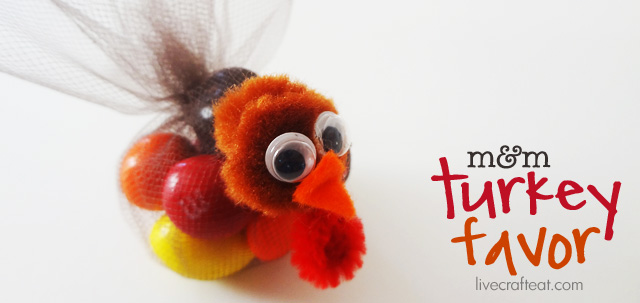 A Free Printable Tom Turkey play dough mat: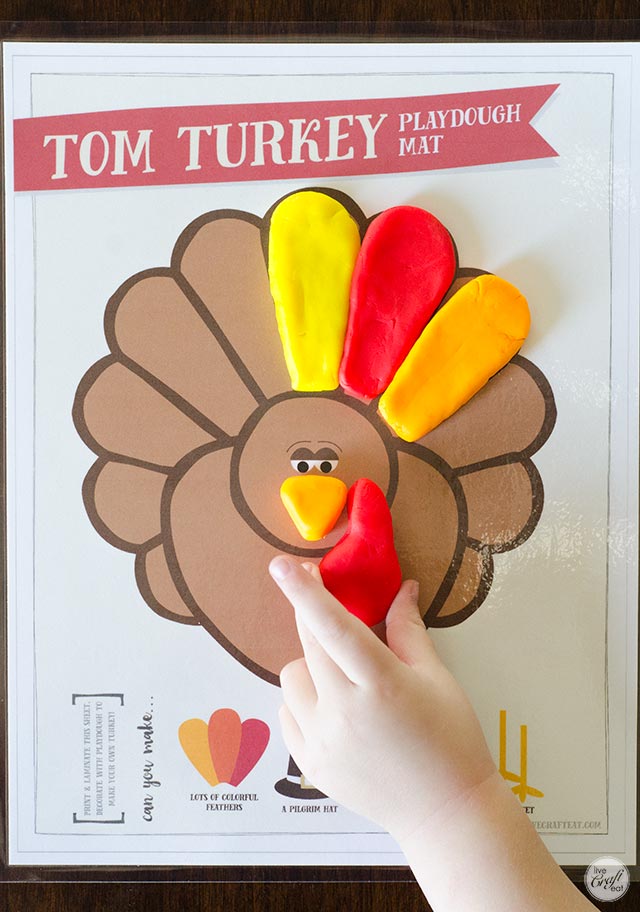 And free printable Thanksgiving activities for kids: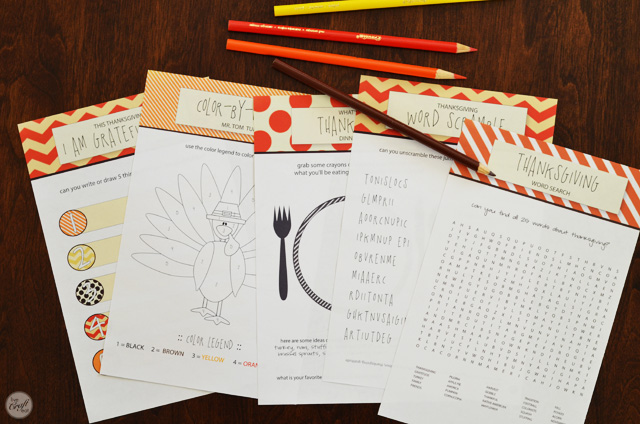 For EVEN MORE THANKSGIVING IDEAS search "Thanksgiving" in the search bar located at the top of my sidebar!
Hope you all have a blessed Thanksgiving this year and every year!